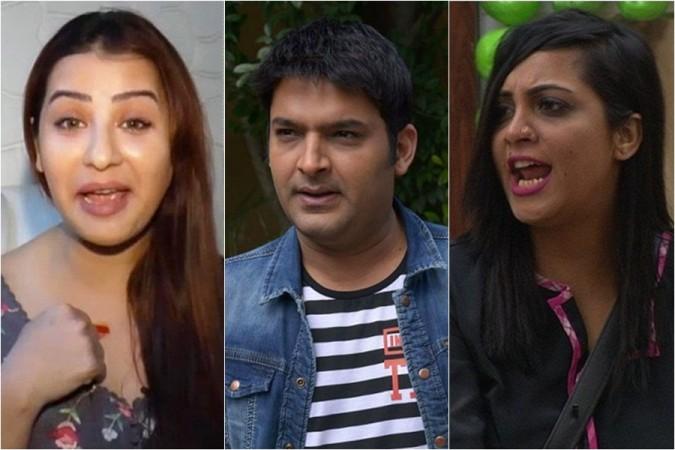 After former Bhabi Ji Ghar Par Hain actress Shilpa Shinde, ex-Bigg Boss 11 contestant Arshi Khan has also extended her support to comedian Kapil Sharma after his recent telephonic spat with journalist Vickey Lalwani.
The controversial diva took to Twitter to slam entertainment portal Spotboye for allegedly running scandalous stories against Kapil even after the latter had repeatedly issued clarifications onTwitter.
"Yes @KapilSharmaK9 made a big, ugly mistake but running sponsored news against a depressed person is even worse and immature. We all lose it when harassed & there was too much negative reporting abt his show b4 launch, too much clarifying from his side b4 it got bad @Spotboye (Sic)," Arshi wrote on Twitter.
In another tweet, Arshi urged the media to be more empathetic towards people who are suffering from anxiety, depression and online bullying. She added that even if Kapil was not depressed, the comedian needs a break to recover from the harassment he suffered in the past couple of days.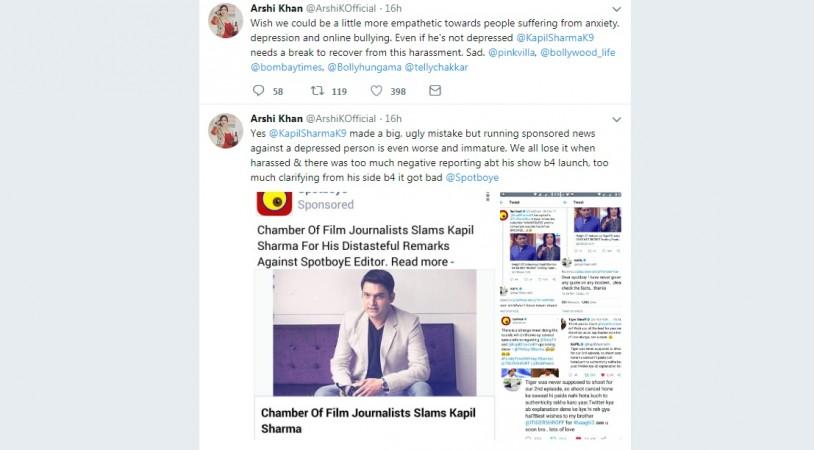 Earlier, Bigg Boss 11 winner Shilpa Shinde raised her concern over Kapil's state of mind and attacked Vickey Lalwani saying that every artist knows how the journalist tortures them while asking questions during interviews.
"Abusing someone is wrong but he (Kapil) must have been in a really in a bad situation. Every artist knows how Vickey Lalwani tortures them while asking questions. Request to all artists please share your experience. Wake up artists, wake up. There must be some serious problem; otherwise, such a talented artist would never say something like this. We are all humans. Who doesn't make mistakes, who doesn't use foul language? Everybody salutes the rising sun. Respect his earlier work and just forgive him. Very humble request to media, we need to give him space(translated from Hindi)," Shilpa Shinde wrote on Instagram.
Comedians Krushna Abhishek and Bharti Singh, Firangi director Rajiev Dhingra and filmmaker Hansal Mehta have stood by the comedian in the turbulent phase of his life.
Kapil has accused Lalwani of publishing defamatory articles. He also accused the journalist of extortion and harassment in connivance with the comedian's former managers Neeti Simoes and Preeti Simoes. Meanwhile, Lalwani, the content head with SpotboyE.com, owned by 9X Media, has shot back with a complaint to the Mumbai Police accusing Kapil of issuing threats, abuse, harassment, and other charges.