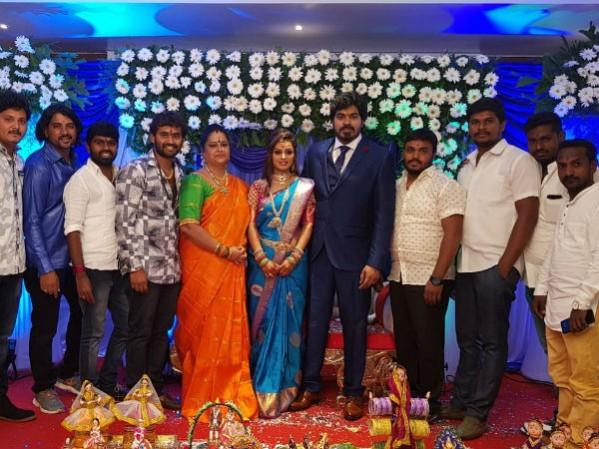 Harsha aka Harshavardhan is the latest actor from Kannada film industry who is set to bid goodbye to singlehood. The actor has got engaged to model Aishwarya at an event in Chikkamagaluru on Sunday, May 27.
The couple's engagement was held as per the Hindu rituals. The groom-to-be sported a stylish blue suit, while Aishwarya wore a peacock blue silk saree with a red border.
The couple exchanged the rings in the presence of their family members and close friends. Reports say that the engagement was a close event and no big name from Sandalwood attended the ceremony.
It is unclear when the couple plan on tying the knot.
Harsha entered films with Shashank's Moggina Manasu, the launchpad of celebrity couple Yash and Radhika Pandit, way back in 2008. He worked thereafter in supporting roles in many movies that include Puneeth Rajkumar's Power.
He also ventured into Kollywood with Maanga. Yash's Raja Huli gave him a good recoginition. Harsha played lead roles in the films like Gajapade, Vardhana and Raghuveer.
Cricketer NC Aiyappa gets engaged to actress Anu Poovamma
Cricketer NC Aiyappa got engaged to Kannada actress Anu Poovamma in a simple event surrounded by a close few well-wishers. The couple exchanged the engagement rings at Kodava Samaja in Vasantha Nagar, Bengaluru.