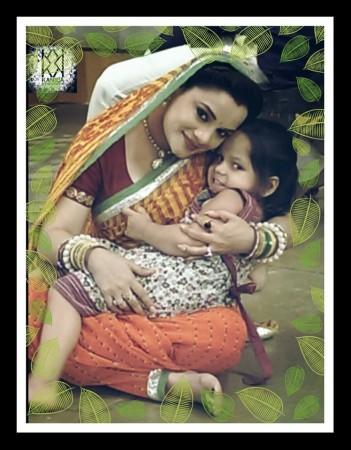 Popular TV actress Kanika Maheshwari is pregnant with her first child and her real life baby shower (godh-bharai) will be featured on Star Plus' TV serial "Diya Aur Baati Hum".
Kanika Maheswari, who is known for her performance as Meenakshi in "Diya Aur Baati Hum", got married to Delhi-based businessman Ankur Ghai in January, 2012. The actress is now pregnant and is expecting her first baby in April. She herself has confirmed news about a special episode on her godh-bharai ceremony on the show.
Talking to The Times of India, Kanika Maheswari said that the makers of "Diya Aur Baati Hum" were all thrilled to know about her pregnancy. "When I told my director about being pregnant in real life, he thought of introducing a similar track on the show, the actress told the newspaper.
"Thankfully, I will be able to work and won't have to quit the show. My co-actors plan to make that day special for me, almost like my real godh-bharai (baby shower), by giving me gifts. I'm very excited and looking forward to it because in our family, we don't have the godh-bharai custom," Kanika Maheswari added.
Of late, it was rumoured that she would quit the show "Diya Aur Baati Hum", but she denied the reports. "I am pregnant, it's a reason to rejoice. I am not unwell, why should I quit the show? My co-actors and the unit are taking special care of me. Also, Ankur has moved to Mumbai to be with me," Kanika told to The Times of India on another occasion.
Having made her acting debut with "Kabhi Aaye Na Judaai", Kanika Maheshwari has also starred in "Raja Ki Aayegi Baraat", "Kahaani Ghar Ghar Kii", "Viraasat", India Calling, "Shaurya Aur Suhani", "Saanjh Savera", "Dill Mill Gayye", "Kkavyanjali", "Ek Ladki Anjaani Si", "Piya Ka Ghar", "F.I.R." and "Saath Saath" and few other serials.