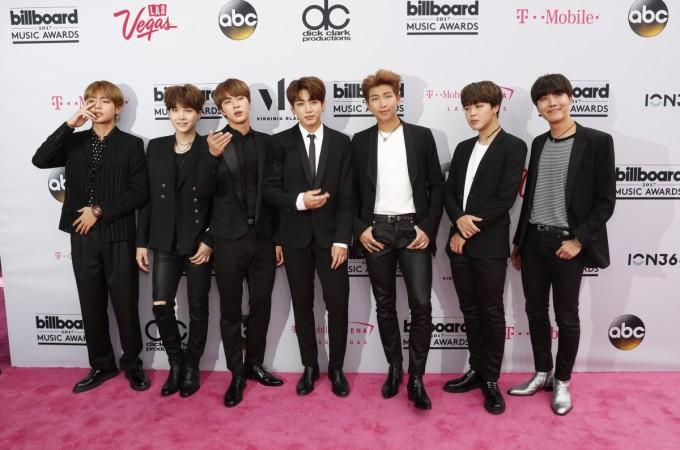 Everybody seeks fame but it comes with a price. A non-issue can turn into a big one if you are a celebrity. Singer Suga of South Korean K-pop sensation BTS (Beyond The Scene), found himself in trouble just because of an Instagram post. Fans were quick to link him with singer Suran for a passing reference.
It all started because of Suran's Instagram post Tuesday where she had used the word "yoongi," which means "shine" in Korean. But interestingly, Yoon-gi happens to be Suga's real name. So, what appears to be an innocent post sparked off speculations that they are in a relationship.
So, are Suga and Suran really dating? Can Suran's post be taken as a hint of her relationship with the BTS singer?
Big Hit Entertainment, the management agency of BTS, told Naver TV (in Korean) that dating reports of Suga and Suran are not true. The label added that the duo had worked together in the past but aren't in a relationship.
Suga produced Suran's song Wine, which won her Hot Trend Award at the 2017 Melon Music Awards last year.
It may be mentioned that BTS, also known as Bangtan Boys, has six singers onboard -- V, Suga, Jin, Jungkook, RM, Jimin, and J-Hope – is on a roll of late, winning some prestigious awards like the Best Boy Band and Best Fan Army awards at the 2018 iHeartRadio Music Awards, Favorite Global Music Star award at the 2018 Kid's Choice Awards, and Musician of the Year award at the Korean Music Awards 2018.
The band helped Big Hit Entertainment earn big in 2017, registering a net profit of 24.5 billion won (around $22.9 million) and an operating profit of 32.5 billion won (around $29.9 million). The label's sales also increased from 35.2 billion won (around $32.4 million) in 2016 to 92.4 billion won (around $86 million) in 2017.