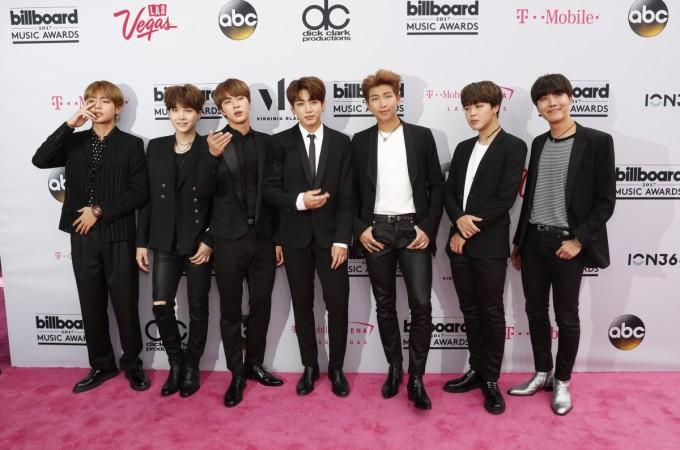 South Korean K-pop boy band BTS, also known as the Bangtan Boys, has helped its management agency Big Hit Entertainment earn big ahead of a possible initial public offering (IPO). The net profit of band's label for the year 2017 surged more than 172 percent year-over-year.
According to Big Hit Entertainment's full-year audit report, the net profit of the label for the year 2017 was 24.5 billion won (around $22.9 million), which is a 172.7 percent increase from 2016, and its operating profit was 32.5 billion won (around $29.9 million), which is a 213.5 percent increase.
The label's sales increased from 35.2 billion won (around $32.4 million) in 2016 to 92.4 billion won (around $86 million) in 2017. Its net worth today stands at 61.2 billion won (around $56.4 million).
Big Hit Entertainment's revenue increased significantly last year, thanks to BTS band, which has turned into a moneyspinner. The K-pop sensation's album Love Yourself: Her, which was released in 2017 with nine tracks, sold more than 1.6 million copies, making it the best-selling album in the history of the Gaon Chart. It also debuted at number seven on the Billboard 200 and the album's single DNA debuted at number 85 on the Billboard Hot 100 before peaking at number 67. Two songs, DNA and Mic Drop, from the album were certified Gold by the Recording Industry Association of America.
BTS also sold thousands of tickets from its 2017 Wings tour, which covered 12 countries, including the US, Brazil, Australia and Japan.
Besides the stupendous success of its album Love Yourself: Her, BTS' popularity across the globe has reached a new high over the last couple of years. It received several awards in 2017, including the Mnet Asian Music Award for Artist of the Year (won second consecutive times). It also won the Best Boy Band and Best Fan Army awards at the 2018 iHeartRadio Music Awards in the US and the musician of the year award at the Korean Music Awards 2018.
BTS is a South Korean K-pop boy band with seven members -- V, Suga, Jin, Jungkook, RM, Jimin, and J-Hope.