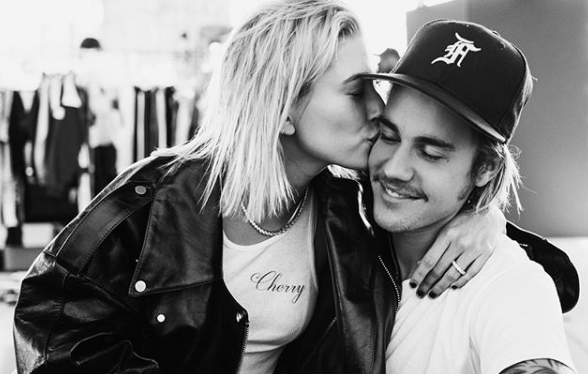 Fantastic news for Beliebers! Justin Bieber and Hailey Baldwin are reportedly getting married in 2019.
After dating on-and-off for some time, Justin and Hailey amazed everyone in July. The duo went to the Bahamas for a romantic getaway, but when they returned back home, the celebrated model sported a $400,000 engagement ring.
There were many who thought that the singer jumped into the commitment and he was better off with his former girlfriend, Selena Gomez. Justin shut down all the comments by a romantic Instagram post.
"I promise to lead our family with honor and integrity letting Jesus through his Holy Spirit guide us in everything we do and every decision we make," he wrote. "My heart is COMPLETELY and FULLY YOURS and I will ALWAYS put you first! You are the love of my life Hailey Baldwin and I wouldn't want to spend it with anybody else."
Ever since Justin announced his engagement, fans were wondering when they will tie the knot. Despite a hasty decision of getting engaged, the couple does not seem to be in a rush when it comes to getting married.
According to TMZ, the Sorry singer and the supermodel are planning a 2019 wedding. An insider revealed that unlike other couples, both Justin and Hailey are sure about their love and commitments. They both, however, are unlikely to get hitched until next year.
"Justin's been in love with her for a long time, so this didn't just come from out of the blue."
Prior to the official announcement, Beliebers (Justin's fans) assumed that the singer will ultimately settle with Selena Gomez. However, according to TMZ even when he was Selena, "Hailey was on his brain."
Apart from this, there are only a few wedding details that have been revealed to fans. It was earlier reported that their mutual devotion towards their religion will play an integral part in the wedding ceremonies. During their wedding ceremony, both Justin and Hailey's church organizations will be involved.
In addition to this, Hailey's aunt Kim Basinger told to Us Weekly that Hailey's sister Alaia and Ireland will be her bridesmaids.
"Oh, it'll be fun. Alaia and Ireland, they're in the wedding. So, believe me, it's cool! I think it's sweet. It's a very sweet thing," Basinger said.
Stay tuned for the latest updates on Justin Bieber and Hailey Baldwin's wedding details.