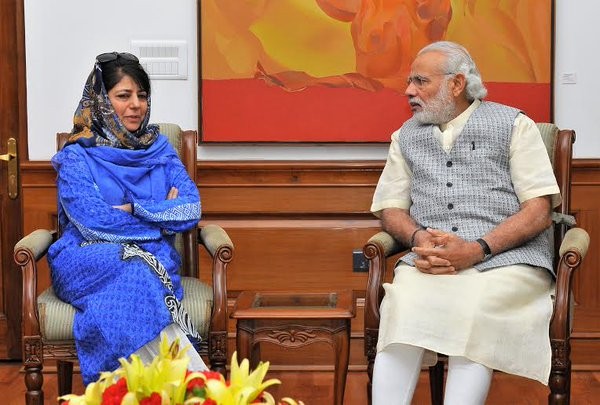 Peoples Democratic Party (PDP) President Mehbooba Mufti met Prime Minister Narendra Modi in New Delhi Tuesday in an effort to end the impasse over government formation in Jammu & Kashmir. The meeting assumes significance after Mehbooba discussed the J&K Government formation scenario with BJP chief Amit Shah and senior BJP leader Ram Madhav last week, which failed to yield any breakthrough.
Mehbooba was accompanied by her party colleague and J&K's former finance minister Haseeb Drabu. She described the meeting with Modi as positive, and said she would consult Thursday her party's legislators and the people of J&K about government formation.
"It has been a positive meeting with PM and I will go back to Srinagar and take the next step, [sic]" Mehbooba was quoted by the ANI as saying.
She said the PDP legislature party meeting has been called Thursday and the next step would be taken only after that.
"With the stalemate (in J&K) continuing for over 2-3 months, I felt positive after meeting with Prime Minister Modi, [sic]" ANI quoted her as saying.
The PDP chief, who is tipped to become the first woman chief minister of J&K, said she was satisfied after meeting with the prime minister.
BJP and PDP leaders have held several rounds of meetings after the death of former chief minister Mufti Mohammad Sayeed. However there has been no breakthrough in the deadlock over government formation.
The BJP has maintained it will not accept any new demand from the PDP, and that it is committed to the Agenda of Alliance signed by both parties last year.
The PDP, on the other hand, was quoted by India Today as saying it is not pushing for any new demand but wants time-bound implementation of various welfare schemes for J&K under the Agenda of Alliance.
The state has been under Governor's rule for three months now.
The National Conference (NC), which is the arch-rival of the PDP in the state, said the delay in government formation was crossing limits.
"This is another extension of a painful wait for the government formation in J&K. The delay is crossing limits," NC veteran Mustafa Kamal was quoted by ANI as saying.
NC President and former chief minister Omar Abdullah has also met Governor NN Vohra, and urged for mid-term polls in the state if the government is not formed immediately.
God help J&K if Mehbooba as CM is going to be as indecisive as she has been as Party President over the last 2 1/2 months.

— Omar Abdullah (@abdullah_omar) March 21, 2016