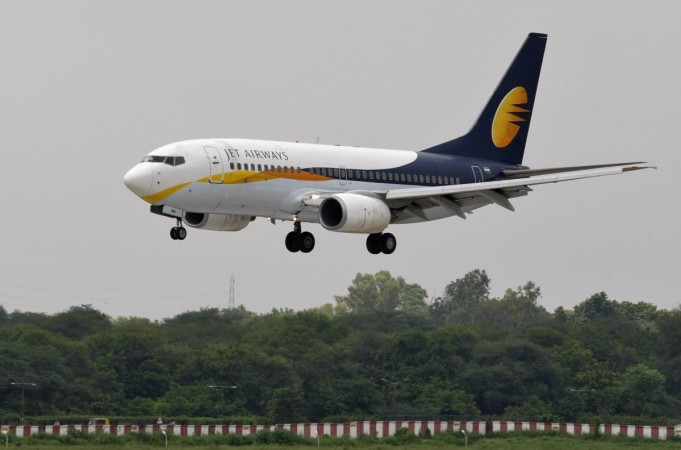 Shares of cash-strapped airline Jet Airways ticked up on Monday on news that the management is in talks with the State Bank of India (SBI) for a Rs 1,500 crore interim loan. It was reported on Sunday that Etihad Airways, which holds 24 percent equity stake in Jet, would offer guarantee for the loan.
The Naresh Goyal-led airline's stocks rose nearly 3 percent on the Bombay Stock Exchange to hit Rs 283.20.
Citing unnamed sources, the Press Trust of India reported on Sunday that Jet Airways is in discussions with its largest lender for raising short-term loans worth Rs 1,500 crore.
"The airline is looking to mop up these funds to meet its working capital requirement as well as for meeting some payment obligations. Jet Airways is expected to provide Etihad Airways' guarantee for this financing," PTI added.
Jet Airways, once a success story in Indian aviation, has been alternating between attempts to raise cash in the market and find a new buyer.
India's biggest full service carrier, which posted three consecutive quarters of losses since March, has been looking for a suitor for some time. Etihad itself had emerged as a possible buyer earlier but Goyal's unwillingness to cede control had spoiled the merger prospects.
Talks were later held with the Tata group, but the proposal was for a buyout, wherein the Tatas, in partnership with Singapore Airlines, would take over complete ownership of the carrier. There were also reports talks with a consortium of Air France - KLM and Delta Air Lines Inc but nothing conclusive emerged.
In the end of November, Goyal's discussion with Etihad group CEO Tony Douglas in Dubai rekindled rumours about a deal in which the Gulf carrier would take a 49 percent equity stake in Jet.
Jet Airways, which Goyal founded in 1993, is reeling under a debt pile of 81.5 billion rupees ($1.2 billion). In the year ended 31 March, the airline reported a loss of Rs 636.45 crore. The company hasn't made profits in nine out of the last 11 years.
In October, the beleaguered company had reportedly sought a loan moratorium from the banks in a bid to tide over the liquidity problems.
Jet Airways -- Key Facts
Bloated costs, surging fuel prices and a weaker rupee are hurting Jet Airways. Peers such as SpiceJet and Indigo had reported impressive profits during the same period.
An erosion in market share in recent years and the inability to expand into other markets also caused Jet's downfall.
The rise of Indigo and the launch of Air Asia ate into Jet's formidable market share.
Most of Jet's debts are dollar-denominated and hence a continued fall in the rupee has worsened the debt problem.
Jet Airways wants to raise loans in the markets but banks have insisted on a turnaround commitment. Loans are unlikely to be approved without significant cost reduction.
Naresh Goyal launched the airline in 1993. Jet became a listed company in 2005.
After starting operations with four Boeing aircraft, Jet Airways became an international carrier in 2004 when it started flights to Colombo.
Jet Airways acquired rival Sahara Airlines in 2007.
Jet Airways survived a major scare in 2008, when global airline majors faced headwinds. Jet let nearly 2,000 employees go and restructured the operations to stay in business.
In its 25 years of operations, Jet Airways aircraft have not been involved in any airline accidents where lives were lost.