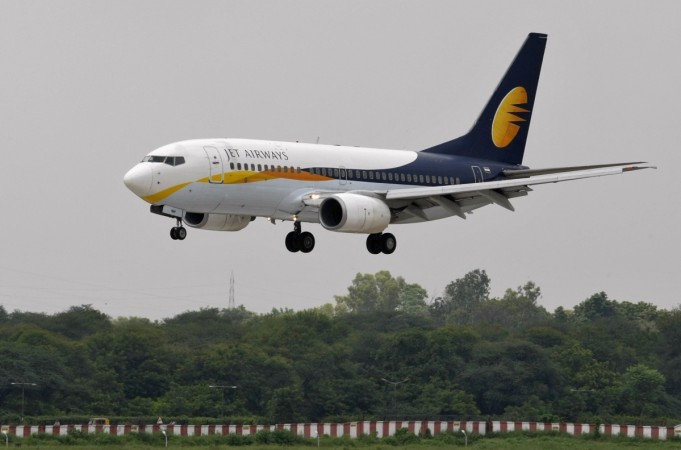 Facing a daunting cash crunch, leading carrier Jet Airways has raised the red alert, warning it will be grounded in two months' time if costs are not substantially slashed. India's biggest full-service carrier has sounded what could be its death knell. According to the latest reports, several ground staff and cabin crew would be fired in the coming days even as the airline struggles to stay in business.
The launch of Jet Airways in 1993 marked the opening up of the rusty Indian economy. It's a paradox that, decades later, the iconic carrier is facing trouble in an era defined by the 100 percent FDI in aviation sector.
It's too early to draw parallels with the failure of Vijay Mallya's Kingfisher Airlines, but things are not rosy for Jet Airways. All eyes will be on Naresh Goyal and what he does to pull from the brink a business he dearly held on to despite challenges. Will he bury personal ego and let Etihad take a controlling stake? Or, will he deal with the cash flow problems in riskier ways, which can result in graver risk for the airline's future?
Here's a fact file on Jet Airways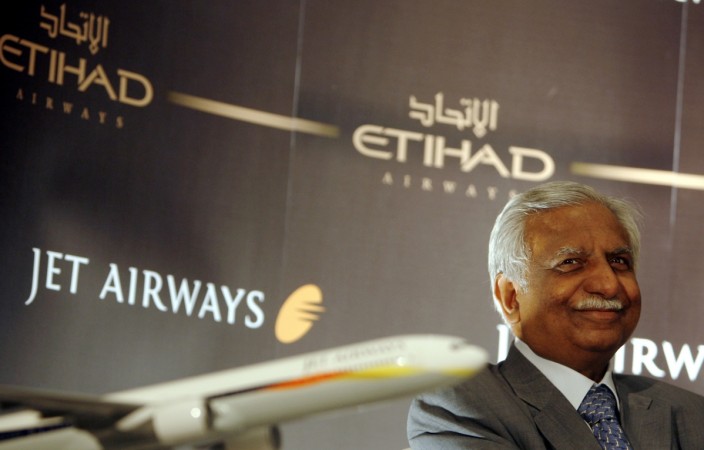 Jet Airways has a net debt of 81.5 billion rupees ($1.2 billion)
In the year ended 31 March, the airline reported a loss of Rs 636.45 crore. Peers such as SpiceJet and Indigo had reported impressive profits during the same period.
Most of Jet's debts are dollar-denominated and hence a continued fall in the rupee has worsened the debt problem.
On Friday, Reuters reported that the company told the staff that it will be grounded in 60 days if costs were not reduced.
Business daily Mint reported on Friday that the management has approached investment bankers to facilitate a stake sale.
Abu Dhabi's Etihad Airways owns 24 percent in Jet Airways.
It was reported earlier that Etihad was interested in taking a controlling stake in Jet Airways, but Naresh Goyal, who holds 51 percent, had declined the offer. It remains to be seen if Etihad will raise its stake in the current context.
Earlier this week, it was reported that Jet Airways had proposed a pay cut of up to 25 percent, triggering stiff resistance from the pilots.
Jet Airways wants to raise loans in the markets but banks have insisted on a turnaround commitment. Loans are unlikely to be approved without significant cost reduction.
The management has said jobs will be cut in various verticals but pilots are not on the chopping board. However, pilots have resisted even a 15 percent pay cut.
Jet Airways has more than 2,000 pilots. Around 80 percent of them are affiliated to the Jet Airways pilots' union, the National Aviator's Guild. The guild has asked its members not to accept a pay cut. There are more than 16,000 employees in Jet Airways.
Apart from bloated costs, surging fuel prices and a weaker rupee are hurting Jet Airways.
The other reasons cited by senior management in parleys with the staff are an erosion in market share in recent years and the inability to expand into other markets.
The rise of Indigo and the launch of Air Asia ate into Jet's formidable market share.
Jet recently placed orders for 75 Boeing 737 MAX aircraft, a move it says will help it expand in the domestic sector and reduce fuel and maintenance costs.
Naresh Goyal launched the airline in 1993. Jet became a listed company in 2005. Goyal started his career working as a marketing executive in the airline industry. He later launched a marketing agency called Jet Air. When Goyal started his first business venture, his mother had sold her jewellery to raise the seed capital.
After starting operations with four Boeing aircraft, Jet Airways became an international carrier in 2004 when it started flights to Colombo.
Jet Airways acquired rival Sahara Airlines in 2007.
Jet Airways survived a major scare in 2008, when global airline majors faced headwinds. Jet let nearly 2,000 employees go and restructured the operations to stay in business.
In its 25 years of operations, Jet Airways aircraft have not been involved in any airline accidents where lives were lost.