Jennifer Lawrence is known for her on-screen confidence. But she still feels insecure about appearing completely naked in front of the camera. She recently admitted to having a nightmare as she had to be buck-naked to play a Russian seductress in the movie Red Sparrow.
The 27-year-old revealed that she spent a night sleepless because she was worried about shooting the aforementioned scene in the movie. But at the end of it, she felt "empowered."
In an interview with the Today show in Australia on Monday, the Oscar-winning actress said: "It was really scary to say yes to the movie because I knew the only way to tell the story is if I agreed to really do the scenes and go full Monty.
"It took a while to say, 'Yes'. And the night before I didn't sleep at all and I was obviously really nervous because it is the actual nightmare of standing in front of a classroom naked. But then after I finished the scene I felt empowered."
In Red Sparrow, Lawrence plays the character of Dominika Egorova, who finds herself "manipulated into becoming the newest recruit for Sparrow School, a secret intelligence service that trains exceptional young people like her to use their bodies and minds as weapons," according to the official synopsis of the movie.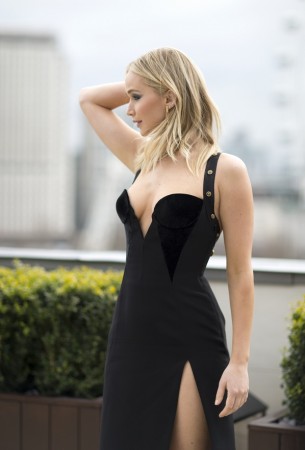 The synopsis further reads: "After enduring the perverse and sadistic training process, she emerges as the most dangerous Sparrow the program has ever produced. Dominika must now reconcile the person she was with the power she now commands, with her own life and everyone she cares about at risk, including an American CIA agent who tries to convince her he is the only person she can trust."
Red Sparrow features a torture scene where Lawrence's character Dominika will be seen having ice-cold water poured on her naked body.
And, apparently, it "terrified" the American Hustle actress.
"I was terrified. I don't think I have ever been so scared of doing a movie before in my life. It was a lot of firsts for me," Lawrence admitted.
"I was getting water poured on myself. I kept asking for it to be heated up. They said, 'No, because then it will steam'. 'Cool, so I'm really naked getting freezing cold water poured on me'," she said.
This comes after she took to social media to berate all those who criticised her for wearing a very revealing Versace dress in the freezing cold during the Red Sparrow photocall in London.
Taking to Facebook, the Passengers actress wrote: "I am extremely offended. That Versace dress was fabulous, you think I'm going to cover that gorgeous dress up with a coat and a scarf? I was outside for 5 minutes. I would have stood in the snow for that dress because I love fashion and that was my choice. This is sexist, this is ridiculous, this is not feminism. Over- reacting about everything someone says or does, creating controversy over silly innocuous things such as what I choose to wear or not wear, is not moving us forward."