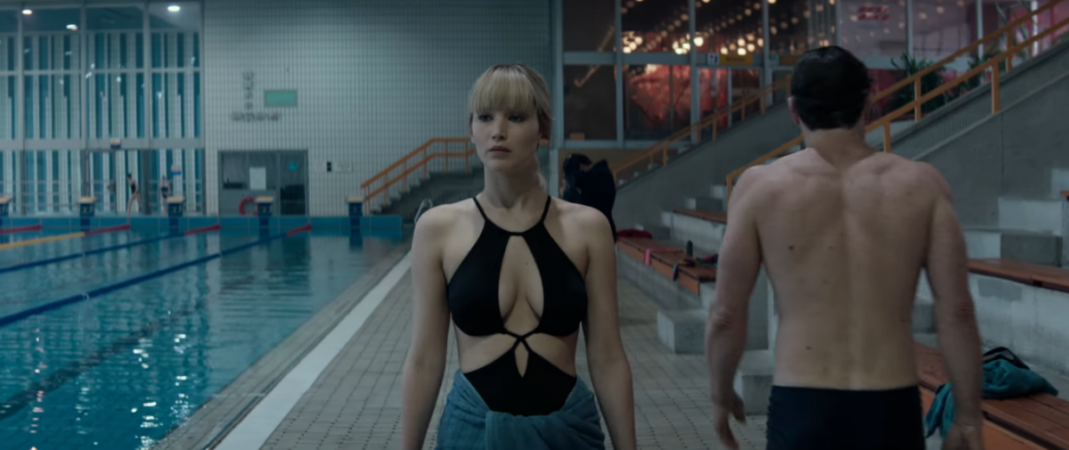 Jennifer Lawrence's Mother! released today. While fans still await to catch a glimpse of the actress in the horror movie, the Hunger Games star has teased her next movie. The trailer of JLaw's next film, Red Sparrow, just dropped and it's as sexy as it could get.
She is seen in a plunging red dress, wearing a brunette wig and sipping on her drink, as if waiting for someone. Later on, a man walks in, places his belongings on the side table and orders JLaw to take off her clothes.
Also Read: Jennifer Lawrence feels boyfriend Darren Aronofsky has 'severe psychological problems'
What happens next is just a glimpse of how gruesome Lawrence could get. Playing a seductive assassin in Fox's Red Sparrow, Lawrence looks stunning and merciless.
Playing the role of Dominika Egorova, Lawrence's character ends her career as a ballerina following an injury and is recruited by a Russian assassin-training Sparrow School.
The trailer shares that every trainee is known by a colour. Lawrence's colour code is Red, hence the title Red Sparrow. As part of the job, Lawrence is expected to be seen in numerous sexual encounters as her job is to seduce, manipulate and use their bodies for orchestrating the perfect assassination.
Lawrence in action – kicking some butt, donning some raunchy outfits-- reminds you of Charlize Theron's Atomic Blonde.
Apart from Lawrence, no other cast members get play time in the trailer. But, the end credits inform viewers about the casting. Matthias Schoenaerts, Jeremy Irons, Ciaran Hinds and Joely Richardson play key roles in the movie.
Directed by Hunger Games director Francis Lawrence, the film is slated to release on March 2.
Check out the trailer below: