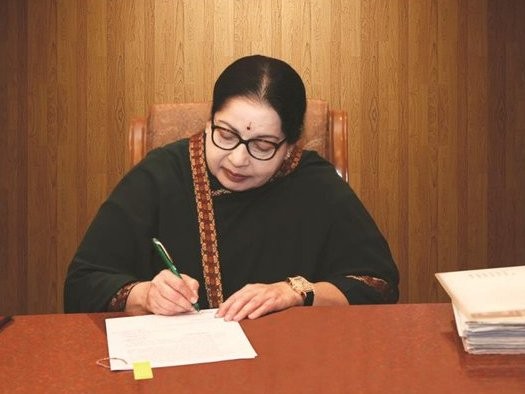 Tamil Nadu Chief Minister J Jayalalithaa is currently on her way to recovery after a hole — called tracheostomy — was drilled into her throat as part of a tracheotomy procedure that became necessary to treat her lung infection. Reports now say she is able to speak to people in small bursts a few minutes with the aid of speakers.
The All India Anna Dravida Munnetra Kazhagam (AIADMK) leader had only recently been shifted out of the intensive care unit (ICU) of the Apollo Hospitals in Chennai to a special room that reportedly has all the facilities that were inside the ICU.
Now, NDTV has reported that not only is Jayalalithaa articulating with the help of speakers, but is also breathing mostly on her own. She is apparently off the ventilator, whose aid she was taking in order to breathe earlier, according to Apollo Hospitals Chairman Dr Prathap Reddy.
What remains for the powerful politician now is to get back on her feet — literally — and start walking again, with Reddy adding: "She is absolutely well. She will decide when she will go home." It is something he had said nearly two weeks ago, when announcing that the lung infection Jayalalithaa was suffering from had been brought under control.
Jayalalithaa has been issuing statements for quite some time from the hospital bed, one of her most recent being the one when she talked of her party's victory in the by-elections in the state. She had said in a statement back then: "The by-poll victory gives me boundless joy and enthusiasm."
She had also said about her recovery in a statement from the hospital: ""I have taken a rebirth with the prayers of party cadres and people. What can harm me when I have your love? I am waiting to completely recover and resume my work for people."