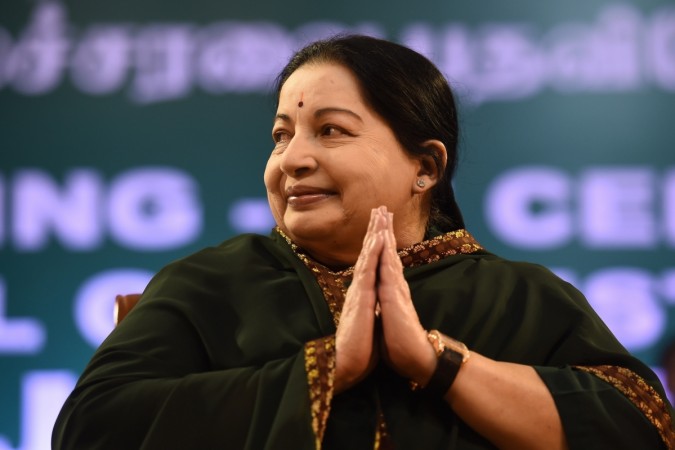 The Tamil Nadu Chief Minister has been in the hospital since September 22 and was said to be recovering slowly. On Sunday night, Jayalalithaa issued a statement saying, "I have taken a rebirth with the prayers of party cadres and people." Thousands of people have been praying for Amma, as Jayalalithaa is fondly called by the people of Tamil Nadu. There were many pujas and yagnas conducted in front of Apollo Hospitals, Chennai, where she has been admitted.
This is the first statement that she has made ever since she fell ill on September 22. The Tamil Nadu CM also added: "What can harm me when I have your love. I am waiting to completely recover and resume my work for people." Ever since she was admitted to the hospital, there were rumours about her illness and how serious she was.
"I request people of TN to vote for AIADMK in Aravarakurichi, Thiruparankundram , Pondicherry and Tanjore," said the TN CM asking voters to go out and vote in the assembly elections that had been deferred in some constituencies. "I request the party cadres to work hard to make AIADMK win in these elections in a huge margin," added Amma.
On November 5, Dr Prathap Reddy, Chairman of Apollo Hospitals, said that she had recovered and it was only a matter of time before she is discharged. "All that I can say very clearly is that she is very satisfied. If you understand what I mean by very satisfied... that she has completely recovered. She understands what is going on around her and in every respect, she and her attendants are very happy that she has come back and is able to monitor the progress (in her health)," he said.
Her statement was released through the official social media handle of her party, the All India Anna Dravida Munnetra Kazhagam (AIADMK).
புரட்சித்தலைவி அம்மா அவர்களின் அறிக்கை. pic.twitter.com/scn4W0c5Hs

— AIADMK (@AIADMKOfficial) November 13, 2016
When Dr Prathap Reddy was asked about when Amma would be discharged from the hospital, he said, "You know her nature. She understands herself very well. She will ask herself very soon when am I going home. It is a pleasant thing to say that she is completely aware of what is going on. It may not be too long."
With her statement, it looks like Jayalalithaa is sending out signals that she is going to be back in the office soon and take charge at the earliest. There had been calls for an interim CM but this news shows that she is back in the driver's seat. Now the focus is on when she will be discharged and when the people of the state will get to see her. Since the time she was admitted to the hospital, no picture of hers has been released.