Bhajan maestro Anup Jalota and his disciple Jasleen Matharu's love-story has sent shockwaves not only inside the house but, all over the country. And the people whom this revelation has shocked the most are her parents, who are still trying to digest their daughter's unconventional love-life.
It was Jasleen's father Kesar Matharu who had introduced Jasleen to Jalota to improve her singing skills. It naturally came as a huge shock to him when he got to know through television that his 28-year-old daughter was in a serious relationship with the 65-year-old Bhajan guru. The fact that the duo had been dating secretly for over three years has given him a major blow.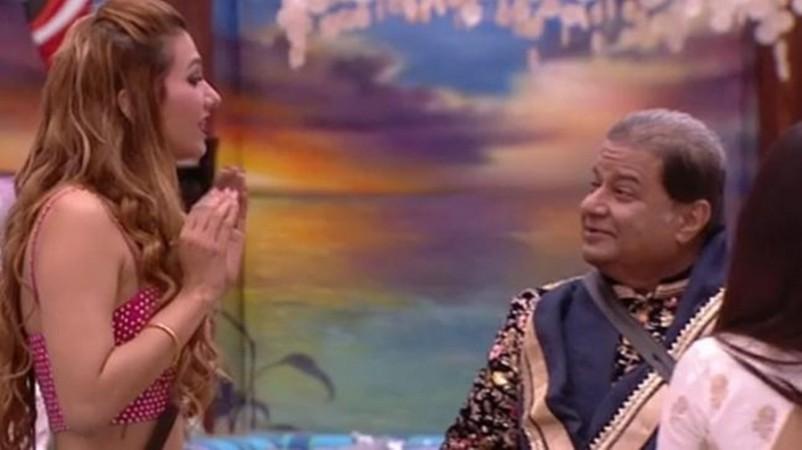 In an exclusive interview with Aaj Tak, Kesar Matharu spoke at length about the news and how it has affected him and his family. In the interview, he revealed that Jasleen had told him that they were going in as a guru-shishya jodi and certainly not as a couple.
So, when Salman announced them as a couple, he and his wife got really angry. And within no time, they were flooded with calls from their relatives and friends who wanted to know more about their hidden relationship.
Jasleen's father also added that Anup Jalota was a regular figure at their home and it never used to get awkward. What surprised him the most was how Jasleen and Anup Jalota kept their relationship under wraps in front of them.

Talking about whether he would accept their relationship, Kesar Matharu replied in negative. He added that he would never accept their relationship or give them his blessings. He also said that if his daughter decides to continue with the relationship after they come out, he and his family would maintain distance from them. He further said that he is extremely hurt and shocked by the revelation and has still not been able to come out of it.
Before leaving the interview, Matharu said that after what they have done, Jasleen and Anup Jalota should focus on improving their image inside the house by playing an honest and fair game. This is the only way they would get audience's love outside.