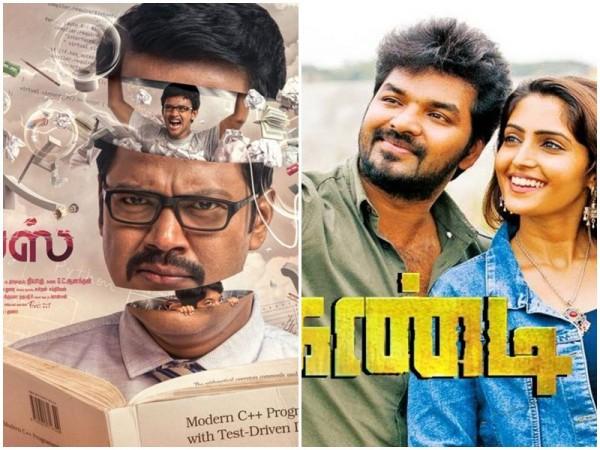 Actor Jai's latest movie Jarugandi and director Suseenthiran's new film Genius are the latest Kollywood flick to be hit by piracy. The full movies with different qualities have already made it to torrent sites.
Jarugandi
Jarugandi is an action comedy film in which Jai and Reba Monica John have played the leads. AN Pitchumani-directorial movie is about a youth, who lands in trouble after forging documents to make money. The movie has met with average reviews.
Genius
The movie stars Roshan and Priya Lal and deals about how a man takes pressure from his family in the childhood to be a topper in school and later in professional life to achieve the company's target. It is about the person, who is on the verge of breaking down and depression. This flick to has met with mixed reviews.
The makers were expecting the movies to do well in the first weekend despite mixed talks. With the movies being hit by piracy, it has to be seen how Jarugandi and Genius fare at the box office.
These days, all the movies make it to the internet within a day of the release. Although Vishal, the President of Tamil Film Producers' Council, has taken several measures to curb piracy, it has not prevented Tamil Rockers and other notorious sites from leaking the films online. It has to be noted that his Sandakozhi 2, which was released last week, too hit the internet hours after the film's theatrical release.
The anti-piracy cell of the Tamil Film Producers Council has filed numerous cases with the police. "Mammoth achievement by @TFPC_Antipiracy blocking 60 plus major websites. First Indian film segment to file 69 cases against websites and 93 cable piracy cases. 18 cases against theatres involved in piracy. 19 arrests. Much more efforts to #killpiracy @prabhu_sr @VishalKOfficial [sic]," the official handle of the team posted.
It has to be noted that the piracy rate has increased manifold over the years with the rise in internet penetration across the globe and India.