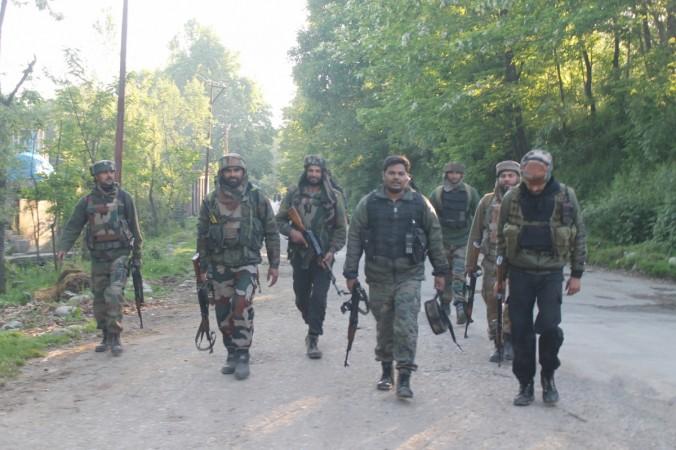 A policeman stationed at a security post in Shopian in Jammu and Kashmir was killed and two others -- a constable and a civilian -- were injured when the post came under a terrorist attack on Friday night.
The terrorists reportedly fired at the post -- set up to guard a minority community in Jamnagiri in the Herpora area of the Shopian district of J&K. The attack took place around 8:30 pm on Friday, according to police sources. Those stationed at the security post fired back, and the militants then fled the scene.
The deceased has been identified as one Nazeer Ahmad, who was a constable. The other constable, who was injured, has been identified as Zahoor Ahmad. The civilian who was also injured in the incident has not been identified. The injured have been taken to the hospital and are currently undergoing treatment. The policeman is in the Indian Army's base hospital in Srinagar.
In the aftermath of the attack, the security forces have cordoned off the area and are searching for the terrorists.
Terrorist attacks on security posts or outposts have escalated in recent times, as have cross-border terrorism and ceasefire violations in Jammu and Kashmir. In a recent incident, three militants were killed in firing that erupted at the 30 Rashtriya Rifles army camp in the Langate town of Handwara around 5 am on Thursday.
The attack was significant as it yielded more proof that Pakistan's soil was being used to foment terrorism directed at India, with Pakistan made weapons and other materials being found on the terrorists, which India plans to use to further isolate Pakistan on the world stage.
Meanwhile, a team of 10-12 members of the National Investigation Agency (NIA) began their investigation into the Handwara encounter on Friday.
The incursions from Pakistan have become so frequent that Home Minister Rajnath Singh said on Friday India has decided to seal the border between the two countries by December 2018.