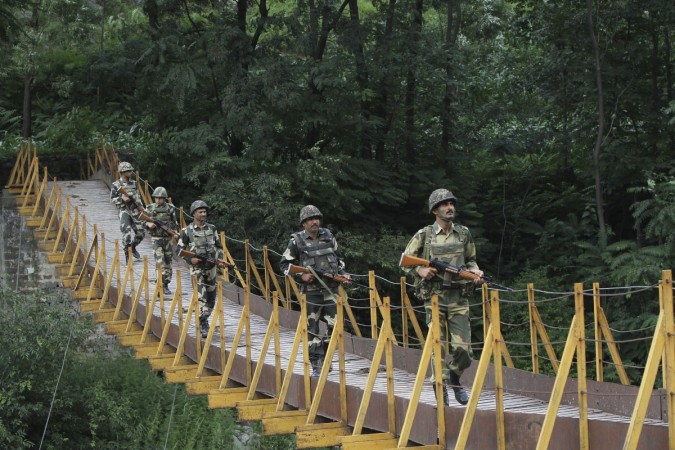 A fierce gun battle that broke out between the security forces and militants after the latter opened fire at Handwara in Kupwara district of Jammu and Kashmir has now ended.
Three militants were killed in the firing that erupted at the 30 Rashtriya Rifles army camp in Langate town around 5 am on Thursday.
"Three Pakistani terrorists were eliminated. They were carrying a huge cache of arms including 3 AK-47 rifles. GPS, maps, grenades, radio sets and food items have also been recovered. There could have been more terrorists. Operation is still underway," Colonel Rajiv Saharan told reporters, adding that food supplies bear Pakistani markings on them.
The first stand-off on Thursday morning lasted for about 15 minutes, following which the army conducted a search operation. But militants opened fire on the personnel who were carrying out the search operation around 6:30 am, which resulted in a second round of exchange of fire.
"At around 5 am, militants opened firing on an army camp at Langate in Kupwara district, which was retaliated by the alert jawans... The troops were alert and the attack was foiled... There was firing once again on the camp at 6:30 am as the forces were conducting the search operation," an army official told the Press Trust of India.
"The terrorists had started indiscriminate firing. Our sentries were on high alert and retaliated instantly and gunned them down. The maps and metric sheets they used are also being analysed, the medicines recovered have 'made in Pakistan' markings," Colonel Saharan said.
According to ANI, the militants were dressed in army combat uniform.
J&K: Handwara encounter over, huge cache of arms and ammunition recovered pic.twitter.com/clctCUcbQr

— ANI (@ANI_news) October 6, 2016
Medical paraphernalia also recovered from the three terrorists killed in Handwara encounter this morning. pic.twitter.com/qEthJRL77A — ANI (@ANI_news) October 6, 2016
Three infiltration bids — two in Nowgam sector and one in Rampur — by Pakistanis were also foiled by the army on the intervening night of October 5-6.
This attack comes three days after an army camp was attacked in the Baramulla district of Jammu and Kashmir, claiming the life of one BSF soldier and injuring a few others, including two army personnel.
#SpotVisuals (visuals deferred) Firing resumed outside an Army camp in Langate in Handwara (J&K) after a 15 mins stand off pic.twitter.com/jGIY747T9H

— ANI (@ANI_news) October 6, 2016
#SpotVisuals (visuals deferred) Firing resumed outside an Army camp in Langate in Handwara (J&K) after a 15 mins stand off pic.twitter.com/EYOIn4I03C — ANI (@ANI_news) October 6, 2016