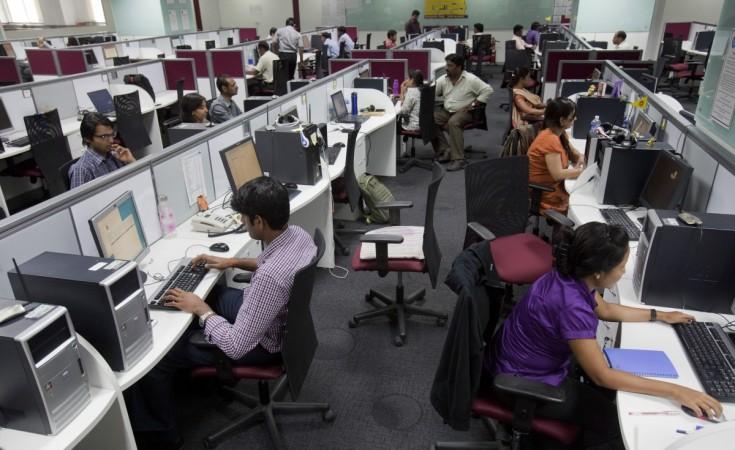 Analysts are closely watching the results of Indian IT majors due later this month amid fears that a US slowdown could endanger their revenues, a media report says.
There is a fear that Fortune 1000 companies could cut their tech spend affecting India's $167-billion outsourcing economy and hurting companies like Tata Consultancy Services (TCS), Infosys, HCL Technologies, Wipro and Tech Mahindra, the report says.
The observers say the demand for digital services that include data crunching and artificial intelligence (AI) platforms are linked to the overall health of an economy.
Nifty IT index fell 1.53 per cent by noon on Friday, losing about 219 points to touch 14,100 points.
Analysts will be closely monitoring management commentary on the growth outlook for homegrown companies when they report earnings beginning next week, the report in Mint says.
Mumbai-headquartered TCS will be the first to announce the earnings on January 10, followed by Infosys a day later and Wipro on January 18.
"If the economies of the world are going to suddenly change in terms of their performance, it will certainly have a bearing on enterprises and, as a consequence, on technology companies. I can see that correlation translate at some level," the report quotes Nasscom chairman Rishad Premji as saying. "So, if the question is 'if economies of the world are not doing well, will corporations continue to spend on digital?' I would submit no."
Many economists and brokerages have flagged a likely US slowdown in 2019, triggering concerns over the Indian companies.
Morgan Stanley expects a 2.3 per cent growth in the current year as compared to an estimated 2.9 per cent growth in 2018.
The US accounts for up to 70 per cent of the business of the five largest companies.
The IT outsourcing industry's growth over the past 12 months could reverse if the US companies feel the crunch of a slowdown. Indian IT companies added more employees and salaries rose as much as 40 per cent in the first six months on the back of US demand for digital services.
"We need to wait and see how all of this impacts the client budgets (technology spend) in the coming two-three months," a Wipro executive told Mint.
Keith Bachman, an analyst at BMO Capital Markets, wrote recently that an important question for Accenture, and the rest of IT services coverage, is how defensive is their business model amid the slowing global GDP or even a recession. Bachman's note came after Accenture Plc's results.
On the BSE, the share prices of TCS and Infosys fell 1.39 per cent and 0.26 per cent respectively on Thursday, amid the benchmark Sensex's 1.05 per cent fall.