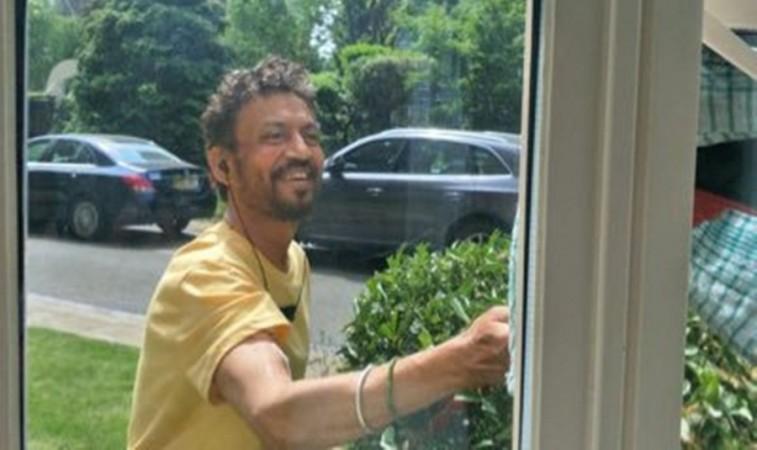 A few months ago, Irrfan Khan found that he was suffering from high-grade neuroendocrine cancer after he felt an acute pain that had left him drained and exhausted. The actor is now undergoing treatment and remains upbeat.
He took to Twitter to share the news about his cancer. Since then celebrities and fans from all over the world have been pouring in their support wishing and praying for his good health. He is currently being treated at The Princess Grace Hospital in London. He is undergoing chemotherapy twice a day.
He has now lost a lot of weight. The 51-year-old actor is fighting his battle with the life-threatening disease with the help of emotional support from his family and friends. He recently changed his profile picture on Twitter in which he is seen enjoying his time cleaning one of the house windows wearing earphones and flashing that million dollar smile on his face.
A couple of months ago, Irrfan was spotted sitting at the stand among a sea of spectators wearing a towel on his head while enjoying a Test match between England and Pakistan at Lord's cricket ground. He was accompanied by his sons Babil and Ayaan at the stadium.
Last month, Irrfan opened up about his battle with cancer and how his life took a drastic turn.
"It's been quite sometime now since I have been diagnosed with a high-grade neuroendocrine cancer.
"This new name in my vocabulary, I got to know, was rare, and due to fewer study cases, and less information comparatively, the unpredictability of the treatment was more. I was part of a trial-and-error game."
"Throughout my journey, people have been wishing me well, praying for me, from all over the world. People I know, people I don't even know. They were praying from different places, different time zones, and I feel all their prayers become ONE.
"One big force, like a force of the current, which got inside me through the end of my spine and has germinated through the crown of my head." read an excerpt from Irrfan's letter about his current condition.
Actress Sonali Bendre is also suffering from high-grade cancer, which has metastasized. She is currently undergoing treatment in New York. She recently shared an emotional video on Instagram wherein she was seen bidding adieu to her long locks. Her husband Goldie Behl was there to console her when she almost broke down while chopping her hair off. Later, she was seen wearing a smile on her face sporting her short hair look and shared a heartfelt note with her fans on Instagram.