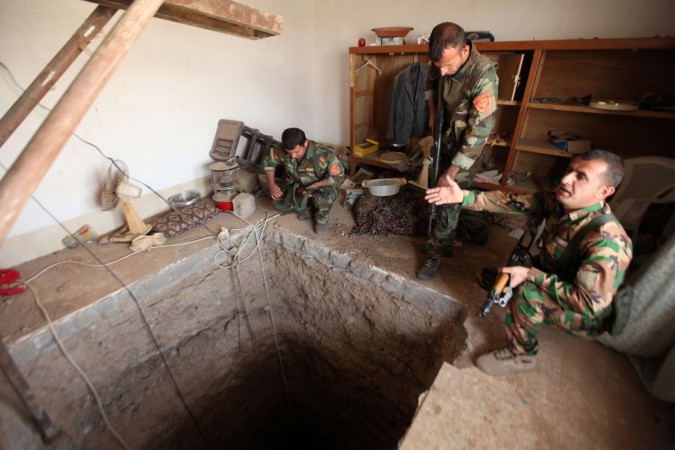 The battle for Mosul intensified on its third day with the Islamic State group — also known as Islamic State of Iraq and Syria (Isis) or Islamic State of Iraq and the Levant (Isil) — suffering heavy casualties, something that has not changed from Day one of the offensive.
Meanwhile, as they fled, Russia on Wednesday urged the United States not to drive the terrorists into Syria, even as the US warned of chemical warfare by the terrorist group. Isis has been known to use novel ways to attack its enemies, the most recent of which were unmanned aerial vehicles, or UAVs, laden with explosives.
Heavy losses to Isis
Isis has been taking heavy losses — both in terms of people and places — ever since the beginning of the offensive, and the trend continued on Wednesday. The Iraqi police, known as the Federal police, not only killed several militants near Mosul, but also liberated a sizeable area from Isis.
"Federal Police forces were able, today [Wednesday], to detonate five booby-trapped vehicles belong to ISIS while attempting to target security forces in Bojwana village near Mosul. The Federal Police forces also managed to kill 21 Isis terrorists in the same village," according to local reports.
Booby-trapped vehicles were used against the Kurdish Peshmerga forces as well. Local reports quoted the forces' Deputy Commander in Sinjar, Brigadier General Sama Mulla Mohammed Bawseli, as saying: "This morning [Wednesday morning], Peshmerga forces repelled an attack launched by the ISIS using booby-trapped vehicles, in addition to 250 militants near Sinjar, west of Mosul. Peshmerga forces managed to destroy four car bombs belonging to Isis, as well as killing several Isis militants."
Foreign terrorists killed
The Iraqi security forces have also launched widespread attacks against the Isis defences in the area of Ghazlani, south of Mosul and managed to kill at least 12 terrorists. "We destroyed three car bombs intended to target security forces," Jabbar al-Ma'amouri, a senior commander of the forces fighting Isis, told a local news outlet.
He added that all 12 militants killed were of foreign origin. However, their nationalities are yet to be determined.
Russia warns United States
Russia on Wednesday warned the United States against pushing Isis terrorists into Syria from Iraq. Russia's Chief of General Staff Valery Gerasimov said in a statement: "It is necessary not to drive terrorists from one country to the other but to destroy them on the spot." The statement comes amid mass exodus of Mosul-residents towards Iraq, leading to fears that Isis terrorists might be escaping with them.