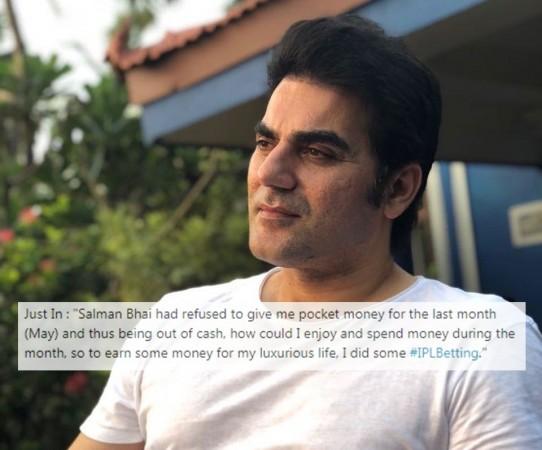 Arbaaz Khan, who was summoned before Thane's Anti Extortion Cell in connection to the ongoing probe of IPL betting, has admitted to betting in the Indian Premier League (IPL) for more than five years. He allegedly lost Rs 2.75 crore in bets during this year's season. He also reportedly admitted that his betting habit had ruined his marriage with Malaika Arora Khan.
The 50-year-old actor-producer was confronted with a prominent bookie Sonu Jalan alias Sonu Batla, who was arrested and remanded five days ago. Four other bookies too were nabbed late last month.
Though officials refused to go on the record, sources have revealed that Arbaaz allegedly admitted to betting a huge amount and also losing a bigger amount in the IPL bets after which he was reportedly harassed and threatened by Jalan for coughing the amount.
Meanwhile, Arbaaz's confession of betting has triggered a series of hilarious jokes on Twitter. Take a look.
It is so obvious. It was not #ArbaazKhan, but it was his driver who did the betting. — Jayaram Kamath (@jayaramkamath) June 3, 2018
Mr. #RajkumarHirani already started planning his next movie...a BIOPIC on #ArbaazKhan starring @rogerfederer!

— mana einstein (@ManaEinstein) June 2, 2018
#BreakingNews
Arbaaz Khan Approached Bhai's Lawyer
Now They Will Anyhow Prove That He Was Roger Federer Who Did Betting..#ArbaazKhan

— subodh biswal (@subodhbiswal93) June 3, 2018
Just In : "Salman Bhai had refused to give me pocket money for the last month (May) and thus being out of cash, how could I enjoy and spend money during the month, so to earn some money for my luxurious life, I did some #IPLBetting." - #ArbaazKhan (File Pic) pic.twitter.com/oExlCqtAkj — TIMES HOW (@TiimesHow) June 1, 2018
#ArbaazKhan places bets with Sonu Jalan for last 6 YRS
Sonu Jalan works for Junior Kolkatta.
Junior Kolkatta right-hand man of Dawood Ibrahim.
So under @narendramodi , forget about arresting Dawood, turns out, his business is FLOURISHING while CHOWKIDAAR is INVOLVED OR SLEEPING! pic.twitter.com/7XjcKd9zGt

— My Fellow Indians (@MyFellowIndians) June 2, 2018
Bobby Deol got Race 3 fame#ArbaazKhan got IPL betting Tera khoon kb kholega re ~ Big B to Abhishek Bachchan — Dr. Gill (@ikpsgill1) June 1, 2018
According to sources, Thane Police has stopped all investigations on #ArbaazKhan after seeing his bank statements. In fact constable Patil gave him Rs 100 with a bidi and said "yeh le, minimum balance to maintain kiya kar, fine lag jaayega..."

— The-Lying-Lama (@KyaUkhaadLega) June 1, 2018
Judge: aapne IPL mein illegal betting ki hai ? AK: Your Honour, wo mera judwa bhai #Roger tha#IPLbetting #ArbaazKhan pic.twitter.com/ZsAz0f8Dhe — ChaasMaster (@ChaasMaster) June 1, 2018
Arbaaz's name first cropped up during Jalan's custodial interrogation. Recoveries of his diary with handwritten entries and some photographs led to Arbaaz being summoned by the AEC Chief Pradeep Sharma.
An investigating officer told the media this afternoon that so far six accused have been arrested in the case while laptops and CDs recovered from them have been sent for forensic analysis.
Arbaaz allegedly has said that he has known Jalan for over five years. The diaries and other papers recovered from the bookie have further revealed more names of prominent personalities involved in the betting scandal.
Emerging from the interrogations, Arbaaz said he had replied to all the police queries and "was fully cooperating in the ongoing investigations."
On his part, the AEC Chief Sharma briefly said the police will take further decisions in the matter only after the full probe is complete, and Arbaaz may be called again if required.
(With IANS Inputs)