Here we are. The tenth season of the Indian Premier League (IPL) has finally arrived. Over the next month, the cricketing action is set to sweep every household in India off their feet.
Eight teams are set for action with the veterans MS Dhoni, Virat Kohli, Chris Gayle, AB De Villiers and others, taking to the field again to play their role in helping their respective franchisee to the title.
Team-wise previews: KKR | RCB | SRH | MI | DD | RPS | KXIP | Gujarat Lions
A total of 60 matches will be played over the more-than-a-month long cricket competition, with the teams engaging in a two-legged affair in the league format, before four teams make it to the knockout stages.
Complete schedule of IPL 2017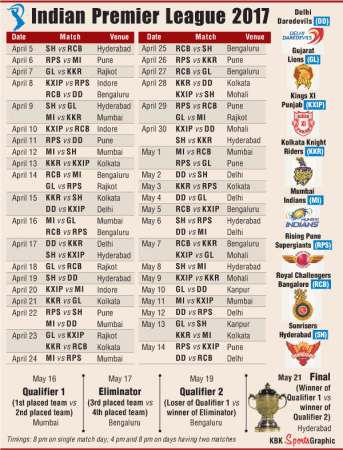 IPL 2017 points table
| | | | | | | | |
| --- | --- | --- | --- | --- | --- | --- | --- |
| Position | Team | Mat | Won | Lost | NR | Net RR | Points |
| 1 | MI (Q) | 14 | 10 | 4 | 0 | +0.784 | 20 |
| 2 | RPS (Q) | 14 | 9 | 5 | 0 | +0.176 | 18 |
| 3 | SRH (Q) | 14 | 8 | 5 | 1 | +0.599 | 17 |
| 4 | KKR (Q) | 14 | 8 | 6 | 0 | +0.641 | 16 |
| 5 | KXIP | 14 | 7 | 7 | 0 | -0.009 | 14 |
| 6 | DD | 14 | 6 | 8 | 0 | -0.512 | 12 |
| 7 | GL | 14 | 4 | 10 | 0 | -0.412 | 8 |
| 8 | RCB | 14 | 3 | 10 | 1 | -1.299 | 7 |
Q - Qualified for Playoffs