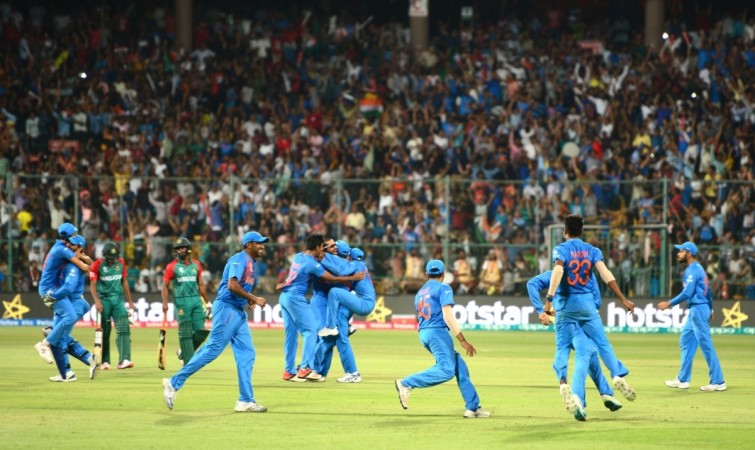 The Karnataka State Cricket Association mentioned Tuesday that they would be using treated sewage water during the IPL 2016 matches at the Chinnaswamy Stadium in Bengaluru. A PIL was filed at the Karnataka High Court Monday asking for the relocation of the matches on account of an ongoing water crisis in some parts of the country.
Earlier in the day, the BCCI told the Bombay High Court during a hearing that they would abstain from using potable water to maintain cricket pitches during the Indian Premier League matches in Maharashtra, and would only resort to recycled sewage water, supplied by the Royal Western India Turf Club.
The KSCA is also following suit. It set up a sewage treatment plant (SWT) at the Chinnaswamy Stadium recently in an effort to solve the water scarcity. "During IPL, the usage [of water] is roughly about 15,000 to 17,000 litres per day," Santosh Menon, assistant secretary, Karnataka State Cricket Association, told NDTV.
Setting up the SWT has reportedly cost the KSCA Rs. 85 lakh. It is being assumed that the functioning of the plant will start before May 2, when RCB (Royal Challengers Bangalore) play their third home game of the IPL 2016 against Kolkata Knight Riders (KKR).
"We were aware of the water shortage in the city. With cricket being a popular sport, we need to set an example as it's our social responsibility," KSCA secretary Brijesh Patel had told the Times of India Sunday. "The decision to use water from a sewage treatment plant (STP) was taken years ago. We wanted to source it from a plant in Cubbon Park but that didn't come through."
"Recently, we got permission to utilise water from Queen's Road to set up an STP at the stadium (West of KSCA). That is what we have done. The water is currently being tested in a laboratory and we will start using it in a week's time."
"We would have had the plant functional by now but it was delayed due to the World T20," added Patel.