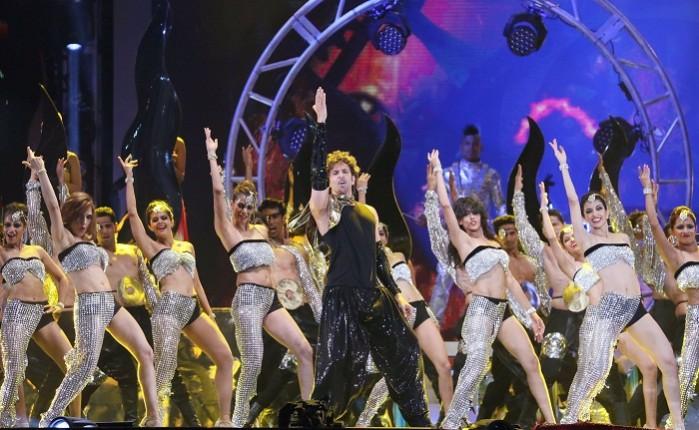 The ICC Cricket World Cup 2015 is now history and it is time for that slam-bang, never-ending, non-stop, cannot-take-your-eyes-off-even-if-you-want-to T20 action that goes by the name of IPL, with a gala Opening Ceremony on Tuesday kicking the festivities off.
While cricket on the field will take charge from Wednesday, Tuesday night at the Salt Lake Stadium in Kolkata will be all about the glitz and bling of Bollywood, with a whole host of stars looking to make their presence as felt as possible.
IPL 2015 Opening Ceremony Live Updates
Saif Ali Khan will host the two-hour Opening Ceremony on the night, with performances from Hrithik Roshan, Farhan Akhtar (and his band), Shahid Kapoor, Pritam (and his band as well) and Anushka Sharma set to enthral or send those "what on earth is going on expressions going" depending on your perspective.
The Kolkata Knight Riders will head into IPL 2015 as the champions, and there will be a symbolic handing back of the trophy during all the Bollywood glitz, with all eight captains – Gautam Gambhir, George Bailey, MS Dhoni, Rohit Sharma, Shane Watson, David Warner, Virat Kohli and JP Duminy -- from the eight IPL sides also set to be present.
The eight skippers will again take the "MCC Spirit of Cricket" pledge, vowing to play the game in the right spirit.
"All eight team captains will be present to take the MCC Spirit of Cricket pledge, reaffirming the values in IPL's commitment to the Spirit of Cricket, which has been on display since the competition's inception in 2008," said BCCI secretary Anurag Thakur in a statement on IPL's official website.
IPL 2015 in terms of matchplay will open on Wednesday when defending champions KKR take on 2013 winners Mumbai Indians at the iconic Eden Gardens. If last season's IPL is anything to go by, it promises to be another humdinger of a six-hitting, wicket-taking, but mainly six-hitting, tournament, with all eight teams looking pretty strong on paper.
One of the best things about the IPL is that you never know what you are going to get on the field, such is the ability and superstars on show in pretty much every side, and the same possibly goes for this Opening Ceremony as well.
With an array of stars, expect plenty of glamour and pizzazz, with a few cricket-aspects thrown in as well, and let's hope the IPL 2015 Opening Ceremony acts as a perfect precursor for what should be one of the best seasons so far.
Where to Watch Live
Get the the IPL 2015 Opening Ceremony As it Happened HERE
Get the IPL Preview HERE
Get the IPL Opening Ceremony Pics HERE
The IPL 2015 Opening Ceremony is set to begin at 7.30 pm IST (3 pm BST, 11 am ET) with live coverage of the entire even on Sony Six and Sony Max. If you do not have a TV lying around during that time, do not fret, because HotStar will give you the option of watching the entire Opening Ceremony via live streaming online.
Audience in the UK can catch all the Opening Ceremony action live on Sky Sports or live stream on Sky Go or Watch Sky Sports. Viewers in the US will be able to catch the IPL Opening Ceremony live on ESPN, while the festivities can be live streamed on ESPN Cricket.