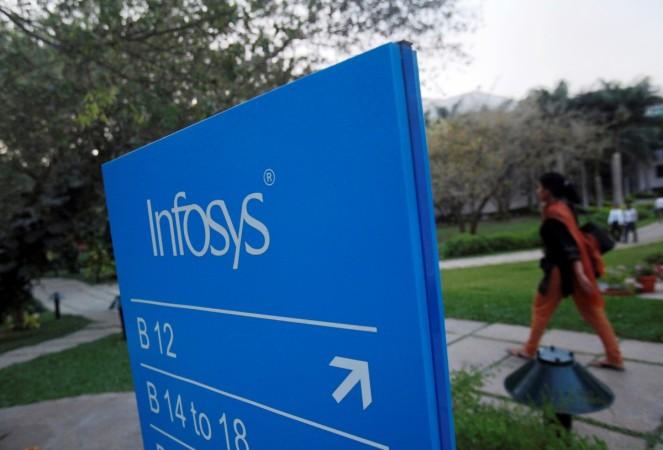 Global software major Infosys on Friday reported Rs 3,613 crore consolidated net profit for the first quarter of fiscal 2018-19, registering a 3.7 percent annual growth from Rs 3,483 crore in the same period year ago. Sequentially, however, net profit declined 2.1 percent from Rs 3,690 crore a quarter ago.
"Consolidated revenue for the quarter (Q1) under review grew 12 percent annually to Rs 19,128 crore from Rs 17,078 crore in the like period a year ago and 5.8 percent sequentially from Rs 18,083 crore quarter ago," said the city-based IT major in a regulatory filing on the BSE.
Digital revenues contributed $803 million, accounting for 28.4 percent of the total income from operations, with 8 percent sequential growth and 25.6 percent annual growth in constant currency.
Here is what Infosys Chief Executive Salil Parekh said:
The strong revenue and margin performance in the quarter shows our dual emphasis on agile digital and Artificial Intelligence (AI)-driven core services are resonating with our clients."
Operating margin at 23.7 percent is in line with the guidance given at the beginning of the quarter in April.
The company clarified that profit decreased Rs 270 crore for the quarter following re-measurement of its assets for sale, including consideration of progress in negotiations on offers from prospective buyers for its US-based Panaya software subsidiary.
"A reduction of Rs 270 crore has been recorded in the fair value of Panaya for disposal," pointed out a statement.
With 8 percent sequential growth in agile digital business and increase in large deal wins to over $1 billion, Parikh said the company was seeing good traction in the market. "Large deal wins have crossed $1billion, with financial services accounting for 40 percent of them," said the outsourcing firm in the statement.
The number of $100-million clients increased by four to 24 during the quarter. "Our emphasis on deepening client relationships resulted in strong client metrics, including an increase in $100-million+ clients to 24," said Chief Operating Officer U.B. Pravin Rao.
The company has retained the 6-8 percent annual revenue guidance it gave in April for the fiscal (FY 2019), with the operating margin guidance at 22-24 percent. Utilization (excluding trainees) touched an all-time high of 85.7 percent during the quarter.
"We had broad-based financial performance on multiple fronts, including return on investment crossing 25 percent, free cash flow up 32 percent quarterly and operating margins at the upper quartile of the guidance", said Chief Financial Officer M.D. Ranganath.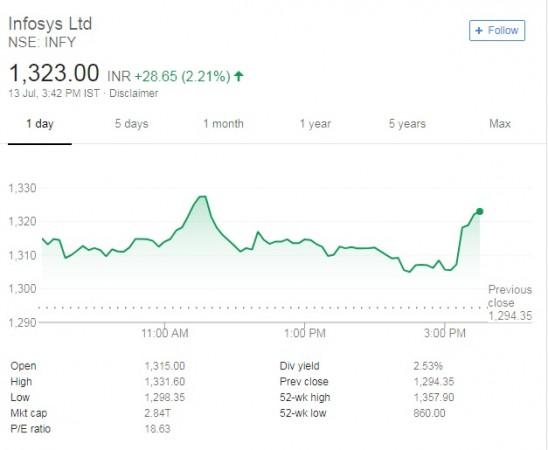 The Board has recommended the issue of 1 bonus share for every equity share held to celebrate the 25th year of the company's public listing in India and further increase liquidity of its shares," said the statement.
The company has also decided to give a stock dividend of one American Depository Share (ADS) for every ADS held to mark the occasion.
This is the eighth time Infosys rewarded its investors, including promoters, co-founders, institutional and retail investors, worldwide, with the first being on August 19, 1997, and the last one on June 15, 2015. The company, however, gave 3:1 bonus share on July 2, 2004, while it has been 1:1 on six times in 2015, 2014, 2006, 1999 (twice) and 1997.
The company's blue-chip scrip of Rs 5 face value gained Rs 14.50 at the end of Friday's trading on the BSE to close at Rs 1,309.10 per share as against Thursday's closing rate of Rs 1,294.50 and opening price of Rs 1,310. The scrip also touched a high of Rs 1,331.15 and a low of Rs 1,300.15 during the intra-day trading sessions.