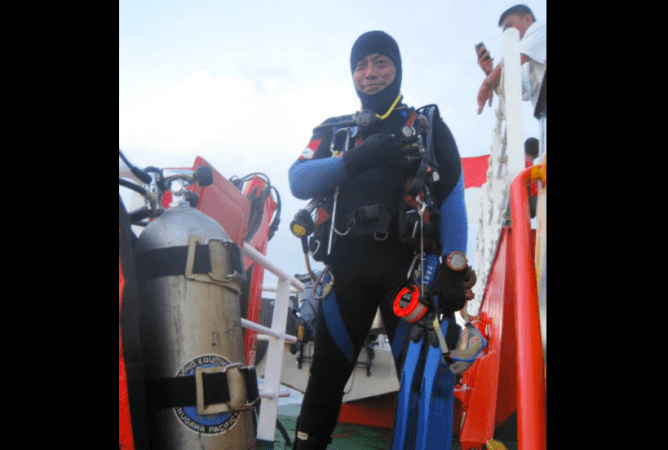 An Indonesian diver, involved in the search and rescue operation for the Lion Air flight that crashed this week, died on Friday, November 2.
Syachrul Anto was a part of the mission and did not return to the surface after 4 pm when the mission was called off for the day due to bad light. The mission's team leader Bayu Wardoyo said the 48-year-old diver's body was retrieved around 9.30 pm local time.
He was then rushed to the hospital unconscious and with no pulse and is said to have died of decompression issues.
"After that, he was immediately taken to the Koja Hospital, where he was declared dead," Channel NewsAsia quoted Wardoyo as saying. "He will be taken to a funeral home in Surabaya."
Anto was reportedly an experienced diver and had earlier been a part of several rescue missions. His friend Yosep Safrudin, in a Facebook post, also spoke about the time the diver had helped in the evacuation operation of Air Asia Flight QZ8501 crash in 2014, and a few other ferry accidents in and around Indonesia.
Before being involved in the search and rescue operation for the Lion Air plane, he had also helped in a mission in Palu, which witnessed a major earthquake and tsunami in September.
Calling Anto a "hero of humanity," Safrudin added: "Only one week back from Palu, he asked to be picked up at the airport two days ago, borrowed my diving equipment and asked to be taken to the JT610 evacuation post at Tanjung Priok..."
Bidding him farewell, Safrudin said that he will miss Anto's "laughter and kindness."
The search and rescue operation for the Lion Air plane entered the sixth day on November 3 and on Thursday, divers had recovered the black box of the aircraft. The device has now been sent for investigation and officials have said that the process could take a week or two, after which the primary cause of the crash is likely to be ascertained.
Lion Air's plane crashed into the sea on October 29 minutes after it took off from Jakarta. The flight was on a domestic route and was on the way to the city of Pangkal Pinang in Sumatra.
The aircraft was a Boeing 737 Max 8, with 189 people on board, including 3 children and 8 crew members.