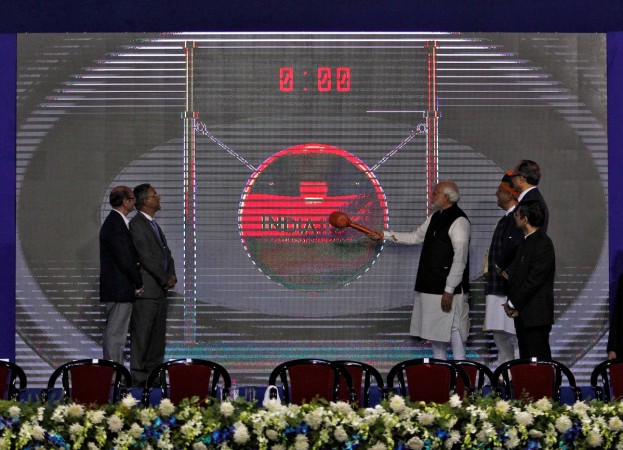 India's first International Exhange (INX), a wholly owned-subsidiary of the Bombay Stock Exchange was inaugurated by Prime Minister Narendra Modi on Monday. Trading in single stock and equity-index futures at the exchange will begin from January 16.
The international exchange has been set up at Gujarat International Finance-Tec (GIFT) city based in Gandhinagar, Gujarat. It aims to add gold, silver, copper, oil and rupee "soon", Bombay Stock Exchange (BSE) CEO Ashishkumar Chauhan, told Bloomberg. So far, ninety-six brokerage firms have registered in the zone.
Also read: Singapore Exchange to sell stake in BSE
The GIFT city is targeting around $48 billion in banking activities conducted by Indian companies and individuals in off-shore centres, which is estimated to rise to $120 billion by 2025.
"The exchange will reclaim some lost market share to equity-futures in Singapore, currency derivatives in Dubai and structured products in Hong Kong," said Chauhan. "It is a dream of Prime Minister Narendra Modi. It is his baby as he has visualised various aspect of the project," he further told the publication.
Initially, the exchange will remain open for 22 hours a day, following which, it may be extended up to 23 hours/day. According to a report in Mint, the Securities and Exchange Board of India (SEBI) has allowed exchanges to start trading in products such as equity derivatives, currencies and commodities.
The GIFT city is India's attempt to take on the offshore-trade and business activities in Singapore, Dubai and Hong Kong. The international exchange has an initial investment of Rs 150-200 crore and another Rs 500 crore has been planned. BSE claims it will turn profitable by 2020.
"GIFT City is India's answer to Hong Kong. It will help bring $1-3 trillion investments in the next 10-15 years," Chauhan added.