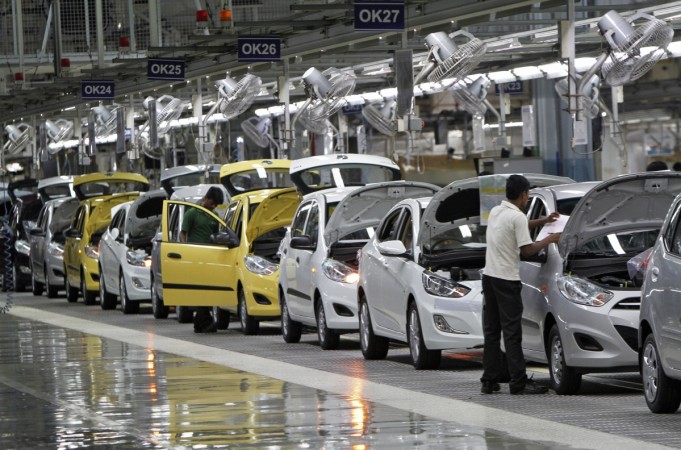 India's automobile production is likely to see a muted growth in the current financial year as against the 8.68 percent rise registered in the previous financial year, if the production figures for the 11-month period ended February 2016 are any indication. Exports too are expected to take a hit.
The industry produced 21,820,072 vehicles between April 2015 and February 2016, just 1.67 percent more than 21,460,837 vehicles produced in the corresponding period last fiscal, according to industry body Society of Indian Automobile Manufacturers (Siam).
In 2014-2015, production of vehicles comprising all categories stood at 23,366,246 units, up 8.68 percent from 21,500,165 units in 2013-2014.
Vehicle production in March 2015 was 1,905,409 units and is unlikely to change drastically this month. So, presuming a similar production figure for March 2016, the industry would end up with a production figure of 23,725,572 units (21,820,072 + approximately 1,905,500) units, translating into a 1.53 percent growth for the current financial year.
Exports
Even on the export front, the picture looks rather bleak, as car shipments for the 11-month period suggest.
The country exported 1,64,469 units between April 2015 and February 2016, four percent less than 1,71,703 units shipped during the corresponding period last fiscal, according to Siam.
In 2014-2015, India exported 35,73,806 vehicles across all categories, up 14.89 percent from 31,10,584 units shipped in the previous financial year.
Domestic car sales on decline
Car sales in the domestic market also witnessed a decline for the second straight month in February 2016, reversing a consecutive 14-month growth till December 2015. The Jat agitation in Haryana, where the country's largest car-maker Maruti Suzuki's manufacturing units are located, disrupted production and sales.
In December 2015, the Chennai floods affected production of companies such as Hyundai, Renault and Ford that have their manufacturing units on the outskirts of India's fourth-largest metropolis.
The imposition of infrastructure cess, ranging from one percent to four percent on a range of cars, announced in the union budget for 2016-2017 saw several auto-makers raising prices of their models. This may as well contribute to low growth in domestic sales in March.