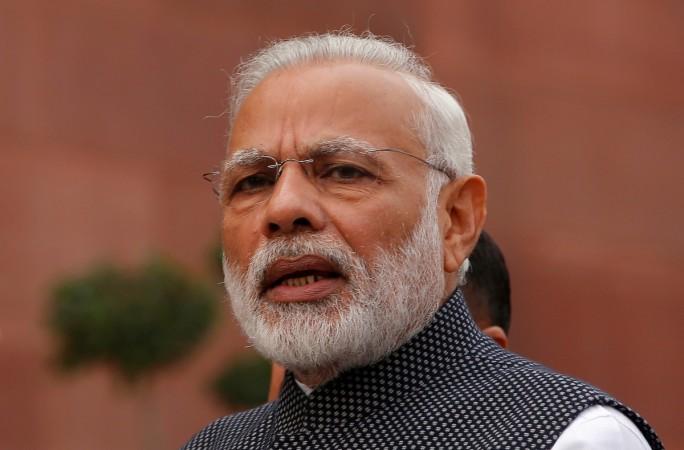 Prime Minister Narendra Modi on Tuesday, January 10, reiterated that India has become the fastest growing major economy in the world. He claimed that despite the global slowdown, India has registered excellent growth.
Addressing the inauguration ceremony of Vibrant Gujarat Global Summit 2017, the PM said: "Today, India is a bright spot in the global economy. We are seen as the engine of global growth. World Bank, IMF and other institutions have projected even better growth in the coming days."
In 2014-2015, India had contributed 12.5 percent of global growth. Its contribution to global growth is 68 percent higher than its share of the world economy.
Modi further emphasised that creating an enabling environment for business, and attracting investments is his government's top priority now. "We have to do this in order to create opportunities for our youth. With that spirit, we are moving towards implementation of some historic initiatives. This includes the Goods and Services Tax," he said.
The PM also listed a few examples of the direction in which the government is going and how it is committed to continue the reform of the economy.
"The Insolvency and Bankruptcy Code, the National Company Law Tribunal, a new arbitration framework and a new IPR regime are all in place. New commercial courts have also been set up," he said.
Modi also feels that India's strength lies in the three Ds: democracy, demography and demand, and the biggest strength is the depth of the democracy. "Some people say that democracy cannot deliver effective and fast track governance. But we have seen in the last two and a half years that it is possible to deliver quick results in a democratic set up as well," he said.
Modi went on to highlight a culture of healthy competition among states that has evolved over the last two and a half years. States are now being rated on parameters of good governance and the World Bank is helping in this process.
"Coming to demography, ours is a nation of vibrant youth. The disciplined, dedicated, and talented youth of India offers a globally unmatched work-force. We are the second largest English speaking country. Our youth are not merely looking for jobs. They have begun taking risks and often prefer to become entrepreneurs," the PM said.
On the demand front, Modi reckons that the rising middle class offers a huge domestic market. He further said that the government has taken a series of decisions and steps to provide clean governance and end the prevailing regime of corruption and nepotism.
From relation-based governance to system-based governance;
From discretionary administration to policy-based administration;
From random interference to technological intervention;
From favouritism to level playing field;
From informal economy to formal economy.
"In doing this, digital technology has played a key role. I have often said that e-governance is easy and effective governance. I have also emphasized the need for policy driven governance. Online processes help bring speed and openness in decision making," the PM said.
"Towards this end, we are working to adopt and absorb newer technologies to bring about transparency, and to end discretion. Believe me, we are on the threshold of becoming the world's most digitised economy. Most of you wanted this change in India. I am proud to say that it is happening before you," he added.