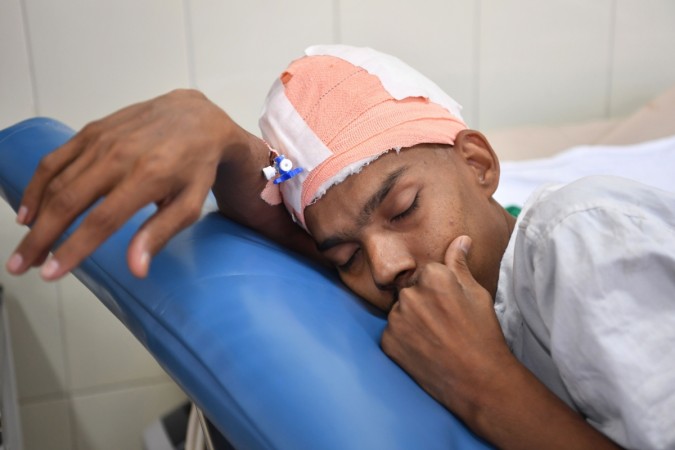 Santlal Pal, a 31-year-old native of Uttar Pradesh, India, had a tumor growing from his skull for the last few years, and it grew so much that it was bigger than his own head.
Weighing 1.8 kg and measuring nearly 20-by-30-by-30 centimeters, Satlal's tumor was ruled to be the largest brain tumor in the world. Luckily, surgeons at the BYL Nair Hospital, Mumbai were able to successfully remove it on Wednesday.
Speaking to Indian Express, Dr Trimurti Nadkarni, head of the neurosurgery department at Nair Hospital in Mumbai, said that the tumor "sat like a head on top of another head." Surgeons "had to cut through the bone," he told The Hindu. "The sheer size of the tumor was a challenge, and we had to ensure blood pressure was maintained while surgery was on," he added.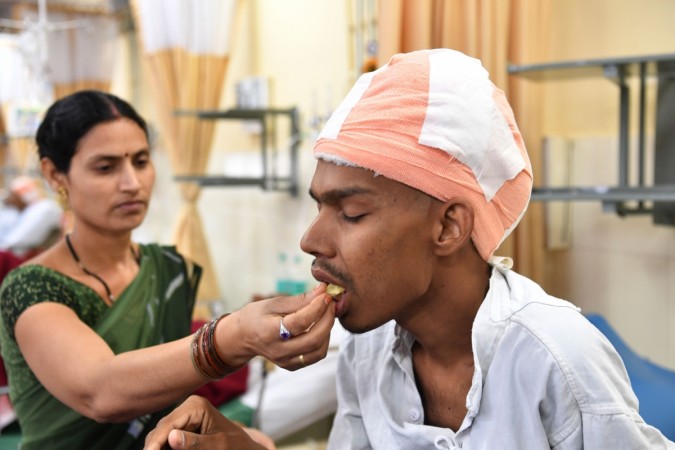 A week later, Nadkarni has shared with BBC News that Santlal is "out of danger. Now it's a matter of recovery."
Santlal was brought to Mumbai after Varanasi and Allahabad hospitals refused to admit him, saying that the surgery would be too risky. But he was finally admitted to the Nair Hospital's department of neurosurgery on February 1. At the time of admission, there was swelling under his scalp, heaviness, headache and complete blindness in both eyes, according to a Hindustan Times report.
The Hindu also reported that Santlal's tumor – which had been growing on top his skull – had accelerated growth over the last one year. Clinging to the back of his head, the mass even had his skull and hair grow all over it.
"It appeared as if there are two heads mounted on top of each other. Even the scalp vessels had become tortuous and dilated. At the time of admission, the patient was completely blind," said Dr Nadkarni.
"In a month, it grew over an inch," told Santlal's brother, Akhilesh, to Indian Express. Further treatment, including chemotherapy, wasn't able to stall its growth. "He would feel a heaviness in his head, which ached constantly, and his vision was blurred," he shared.
Investigation of the cause of such a growth, with the help of CT and MRI scans, revealed that the growth had spread to both sides of the brain, via the skull bone.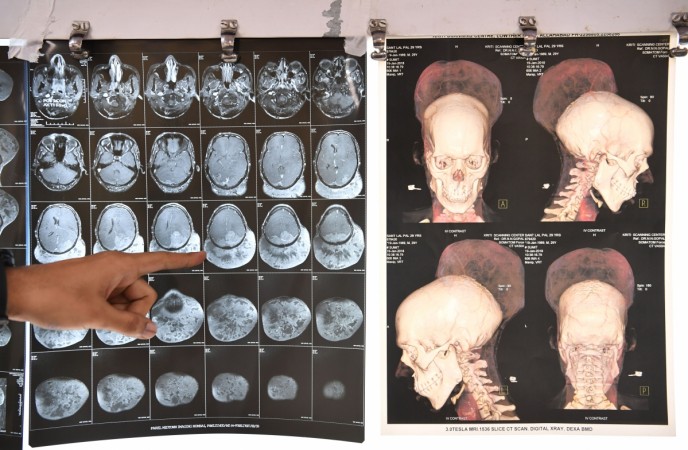 "We explained the patient and his relatives the risk involved before we performed the surgery. The tumor was removed during a 7-hour surgery on February 14. The patient needed 11 units of blood and was kept on a ventilator for three days after the surgery," he explained.
Medical records, later on, lead the surgeons to the conclusion that they had removed the world's largest brain tumor which was a whopping 1.8 kg.
"Such tumors are rare and are a surgical challenge owing to blood loss. Managing the patient requires great team skill and intensive preoperative monitoring for a successful result," shared Dr Ramesh Bharmal, Dean at the BYL Nair Hospital.
Speaking of Santlal's current condition, he said: "The patient has recovered well and is on a full diet. He feels relieved of 'a large burden on his head'".