An Indian Air Force (IAF) Sukhoi jet crashed in Maharashtra's Nashik on Wednesday, June 27. No casualties have been reported so far and the two pilots of the jet are said to have ejected safely.
While the exact cause of the crash is yet to be ascertained, emergency services have been pressed into action.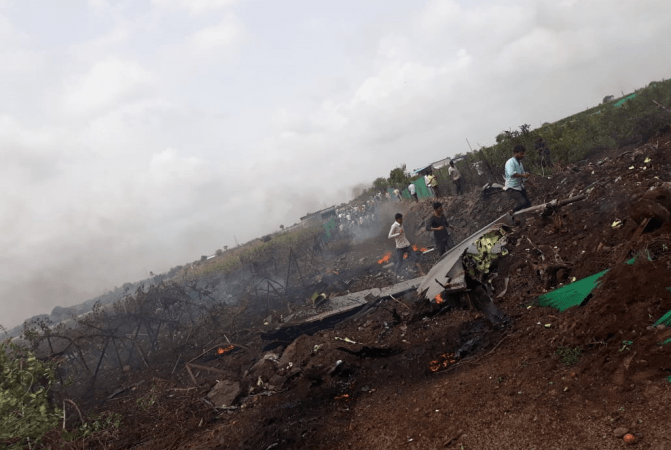 The Sukhoi Su-30MKI crash comes days after the IAF lost a Jaguar aircraft in Gujarat's Mundra district of Kutch. The jet crashed on June 5 and the pilot was also reported dead.
"Today morning a Jaguar aircraft on a routine training mission from Jamnagar crashed around 10:30 hours. The pilot Air Cmde Sanjay Chauhan sustained fatal injuries during the crash," Times Now quoted said Lt Col Manish Ojha as saying.
A Court of Inquiry had been ordered to investigate the cause of the accident.
The wreckage of the crash was seen spread all over the field and a few cows grazing in the area were also killed.
Chauhan, a station commander, was one of the senior-most officers of the IAF. His rank is known to be equivalent to that of a Brigadier in the army.
The Indian Air Force has witnessed quite a few mishaps in the last few months. An IAF chopper crash-landed in Kashmir's Natha Top on May 23. All the passengers and crew were safe.
Before that, an Mi-17 chopper crashed in Uttarakhand's Kedarnath in April and six people were injured in the mishap.
Meanwhile, two IAF pilots were killed in a crash in Assam's Majuli island in February, minutes after taking off in a microlight aircraft for a routine sortie. The aircraft had taken off from the Jorhat air base.
Sukhoi Su-30MKI Fact File
The Sukhoi Su-30MKI is a twinjet multirole air superiority fighter developed by Russia's Sukhoi.
It is built under licence by India's Hindustan Aeronautics Limited (HAL) and is used by the Indian Air Force.
The aircraft is a variant of the Su-30 and is known to be a heavy, all-weather, long-range fighter.
The first Russian-made Su-30MKI variant was inducted into the IAF in 2002.
The indigenously assembled Su-30MKI entered the IAF service in 2004.
As of October 2017, the IAF had 240 Su-30MKIs in service.