After conceding the two-match Test series against India, West Indies have suffered a major jolt as their head coach has been handed a two-match ban for inappropriate comments made towards the TV umpire and the fourth official.
Law has also been docked 100 percent of the match fees and has been awarded three demerit points for his behaviour. The West Indies coach was handed a demerit point for a similair outburst during the Dominica Test against Pakistan in 2017.
Breached Level 2 Article 2.7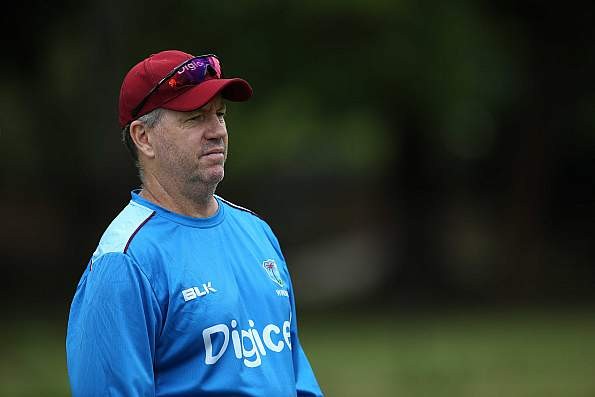 Four demerit points convert into two suspension points. On Monday, Law admitted the offence and accepted the sanction proposed by match referee Chris Broad, ruling out the need for a formal hearing, according to the Press Trust of India.
The latest incident took place during the third day of the second Test in Hyderabad.
As per the stipulated rules, Law was found guilty of breaching Level 2 Article 2.7 of the ICC Code of Conduct for Players and Player Support Personnel, which relates to "Public criticism of, or inappropriate comment in relation to an incident occurring in an International Match or any Player, Player Support Personnel, Match Official or team participating in any International Match, irrespective of when such criticism or inappropriate comment is made".
During the third day of the second Test, West Indies batsman Kieran Powell nicked a ball off Ravichandran Ashwin, where Ajinkya Rahane tumbled to take the catch. Powell stood his ground as the on-field umpires referred the catch to the third umpire. The soft signal was out, which played a decisive part in the decision-making process as the third umpire Nigel Llong did not find enough video evidence to overturn the decision.
This infuriated Law who stomped across to the TV umpire's room and then the fourth umpire's area and made inappropriate comments to them. The Australian has accepted the charges and also the decision.
Law, who has already resigned from the head coach's position, will travel with the team to Bangladesh after this series for his last assignment with Windies. He will then fly across to England to take charge of Middlesex as the head coach.
"I have very much enjoyed my time with the West Indies and wish the staff and players every success," Law said after accepting the job.
"There is never a good time to leave but the opportunity to work with Middlesex for four years at the home of cricket was too good to decline," he added.