Things weren't going Ravindra Jadeja's way in the ongoing second Test between India and West Indies but Virat Kohli's advice helped the left-arm spinner break the duck in the post-lunch session on Day 3.
After scoring his maiden Test century and picking up four wickets helping India canter to their best ever Test victory at Rajkot in the first test, Jadeja was having a rather forgettable outing in Hyderabad.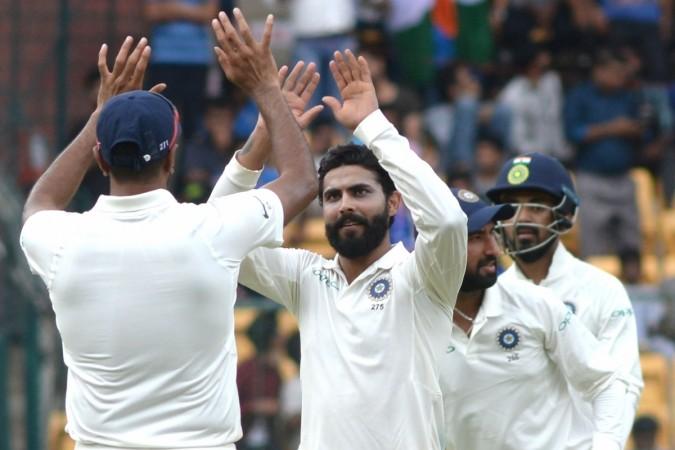 The southpaw went wicketless in the first innings in his 20 overs conceding 69 runs on top of being dismissed for a duck in India's reply earlier this morning when the hosts lost their last six wickets for 53 runs.
Coming out to bat in their second innings, West Indies were dealt three early blows by Umesh Yadav, Ravichandran Ashwin and Kuldeep Yadav. With the visitors in disarray at 45-3 after only 13 overs, Kohli called on Jadeja to bowl his first over of the innings.
Jadeja subsequently kept a tight line, trying to bowl slow on a good length just outside off stump for the first three deliveries when captain Kohli went up to him to have a chat.
While it remains unclear what Kohli was saying, his gestures seemed to suggest he was asking Jadeja to bowl with a slightly sidearm action and use his index finger to generate turn off the pitch.
He went on to demonstrate that the batsman on strike, Shai Hope, was coming down stiff on the ball with his bat and playing with hard hands. Virat Kohli then pointed towards Rahane, who was standing at first slip.
Jadeja proceeded to execute his captain's advice as he reached the popping crease and with a sidearm action released the ball using his index finger.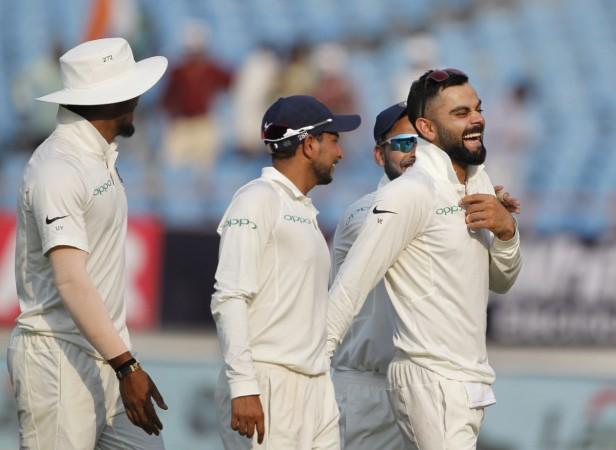 Shai Hope pressed forward – not anticipating the turn – with an open bat face and hard hands poking at the ball – which spun away from him – to hand resident slip-catcher, Rahane with a simple grab at waist height.
Jadeja set off in jubilation, validating the advice as he celebrated demonstrating Virat Kohli's aforementioned gesture – gyrating his left arm in a sideways bowling action with his index finger protruding!
As Prithvi Shaw jumped onto hug Jadeja, a thrilled Kohli came running from behind shouting, "Bola tha!" which translates to "I told you!"
Meanwhile, West Indies are tattering at 71-6 in the second innings, only 15 runs ahead of India as Umesh is one wicket away from picking up 10 wickets in the match.