India head coach Ravi Shastri and captain Virat Kohli heaped praise on Umesh Yadav after the pacer picked up a match-winning 10-wicket haul in the Hyderabad Test against the West Indies.
Both Kohli and Shastri agreed that Umesh has given the team management a selection headache, considering the number of bowlers in form in the Indian squad.
Shastri conceded it was difficult for Umesh to warm the benches in the overseas tours this season. So, the performance in Hyderabad, he insisted, should give the Vidarbha fast bowler a lot of confidence.
As the head coach points out, there was considerably more pressure on Umesh after debutant and fellow fast bowler Shardul Thakur limped off the ground after just bowling 10 balls in the match with a groin injury.
However, Umesh took up the challenge and picked up six wickets in first innings and followed it up with four in the second innings as India clinched a 10-win wicket to complete a 2-0 whitewash.
The 30-year-old also became only the third Indian pacer after Kapil Dev and Javagal Srinath to pick up 10 wickets in a match at home.
"I felt really happy for him. It can be a frustrating profession when you have to sit in the reserve bench like he did for four Tests in England. We knew, he knew that at any given stage he can play. But only the best can play in the XI," Shastri said.
"He got his opportunity here and he took it with both hands. I am very happy for Umesh.
"It [10-wicket haul] is massive. It's been done only four times. Kapil must have done it twice. I know Javagal doing it once.
"What this will do is, it will make him believe that he belongs to the best XI that India can put out in the park. He has given us a headache. But I like that headache."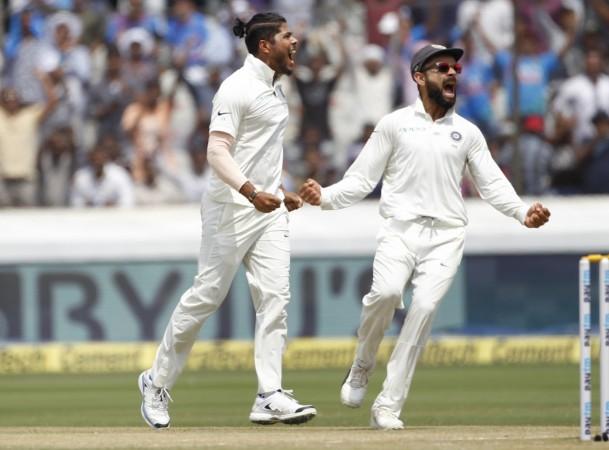 We all are happy for Umesh: Kohli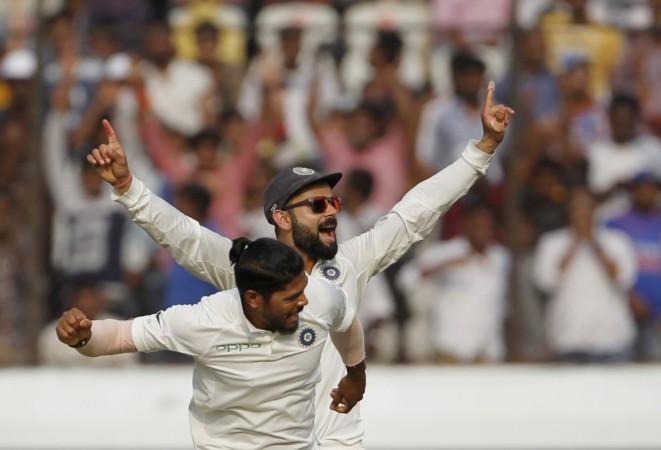 Umesh has been constant presence in the team at home, having played 19 Tests since his comeback in 2015. However, his appearances overseas has been sporadic, especially in the ongoing year wherein he has played only one from eight Tests in South Africa and England.
Meanwhile, Kohli said Umesh was the "standout performer" and revealed that the pacer gives more than 100 percent whenever he gets an opportunity to be part of the playing XI.
The skipper also pointed out that the "problem of plenty" when it comes to the pace battery is a good situation to be in rather than being short of options.
"...I would like to single out Umesh. Shardul broke down in the first spell and Umesh deserves what he's achieved in this game. I am pleased to see how he's stepped up for us in the absence of Shami and after Shardul got injured. He keeps giving more than 100 percent every time in the field," Kohli said.
"We all are happy for him, he's worked really hard and has waited for his chance to step up for us. He is the standout performer for me in this game as far as I am concerned.
"It is a great luxury to have; we have a problem of plenty now, Umesh taking 10 wickets here, the three bowlers who played in England and it is a headache we have. But that is a better situation to be in rather than having to find bowlers who would do the job for you."