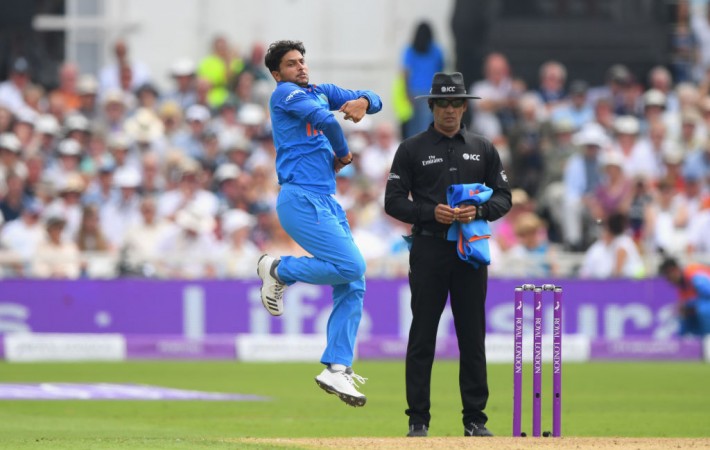 Virat Kohli galloped off the field, with the bat lofted, soaking in the applause. India ended their innings on 321 and the pitch had started taking turn. With three spinners in the Indian bowling attack, it was expected to be a one-sided affair. However, West Indies came out with intent, got off to a bright start, powered through the middle overs, and then a tight finish ensured a tied match.
The spinners, who were expected to bamboozle the visitors, were not as potent and barring a few overs from Kuldeep Yadav, the tweakers were not entirely convincing.
'We need to practice a lot'
"It was very difficult to bowl in the dew, the square was quick and there the got ball wet. I was having difficulty gripping the ball. But you have to consider these situations, we need to practice a lot," Kuldeep told reporters at the post-match press conference.
Even captain Virat Kohli said at the end of the match that the nature of the pitch had changed in the second innings and owing to the dew factor, the conditions became suitable for stroke play. Kuldeep echoed the sentiments and defended the seamers.
"Considering the situation they were in at one point when they (West Indies) were cruising, we are happy as a bowling unit. With the dew also there, I think we did a good job," he said.
The young chinaman bowler, who was the most successful bowler on the night with three wickets, spoke highly of Shimron Hetmyer and the way he took the game away from India.
"Hetmyer is playing brilliantly, it was very difficult to bowl to him. I was trying to contain him, was really on to him and trying to get him out. He was not comfortable against me but a couple of sixes he hit changed the course," Kuldeep said.
India, who have been instrumental in chasing down targets, tweaked things around in the 2nd ODI, and Kohli said that this was done keeping in mind the upcoming World Cup, where the Indian team would have to embrace any situation.