Shai Hope kept his calm, waited for the ball to be pitched outside the off stump and slashed a drive past point. Ambati Rayudu covered good ground, dived full stretch, but the power behind the stroke took the ball past the boundary. No winner, no loser, match tied. Perhaps, the perfect end to a smashing contest.
Indian captain Virat Kohli, who sure will hog the headlines for his record-filled day, acknowledged the effort from the Windies and praised Hope for this effort.
"I have been watching Shai for a while now. He played that brilliant knock against England when they were chasing in the fourth innings. Hetmyer as well, credit to him. Hats-off to their strokeplay. I want to congratulate Shai on his hundred," Kohli said at the post-match presentation.
'Rayudu reads situations very well'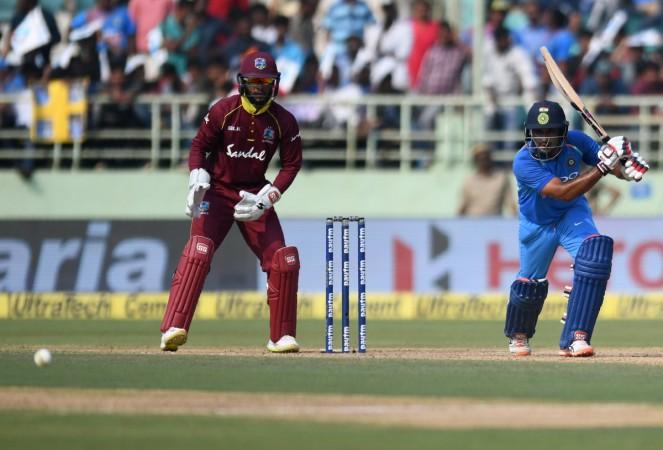 Earlier, when Kohli won the toss and elected to bat first, India did not get off to an entirely bright start. They lost both the openers in quick succession, but then this allowed Ambati Rayudu to show his mettle, and he put in a good solid show, repaying the trust shown in him by his captain.
"I thought Rayudu was very professional today. I have mentioned in a press conference before that he is someone we are looking at as a permanent number four. He reads situations very well. He plays spin really well and plays fast bowling really as well. He is a smart cricketer and very aware. He is in good momentum and good form," Kohli assessed at the end of the match.
The Windies were powerful in the chase and kept playing their strokes despite losing wickets. Kieran Powell, Shimron Hetmyer, and then Shai Hope were instrumental in pushing the visitors close to the target and this put the Indian bowling under tremendous pressure. Kohli, however, is counting the positives.
"When the run rate fell under 6, I thought they are in a strong position to finish off well now but then Kuldeep got us back in the game. Chahal bowled a brilliant over and Shami, Umesh came back beautifully. And the game nicely drifted in the last 7 overs, especially in the last 5-6 overs," the captain said.
Speaking about his decision to bat first, Kohli said that this decision was made keeping in mind the World Cup where the team has to be ready to adjust and embrace any situation which confronts them.
The third match of the series will be held in Pune on Saturday, October 27 and if the first two matches are anything to go by, it is all set up for another spicy affair.