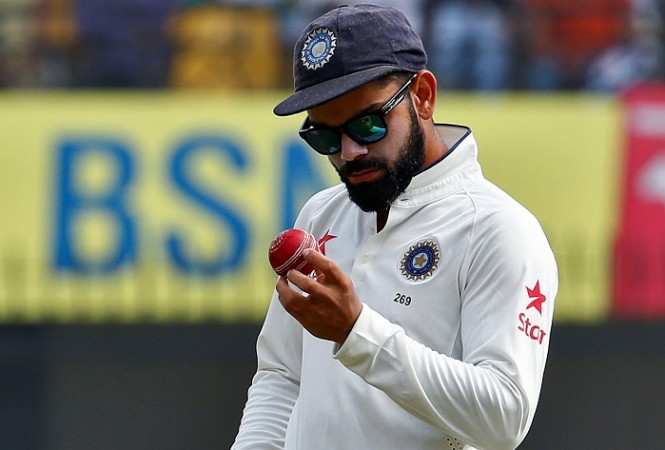 Score a bunch of runs, fairly quickly, and then go about picking ten more wickets – that will be the plan for India on day four of the third Test match against New Zealand in Indore. India are in as strong a position as they could have hoped for, thanks to a big first innings score and a bit of Ashwin magic on Monday.
With the overall lead standing at 276 at the moment, India will plan to bulge that to well past 400 before the declaration comes into play. New Zealand will, of course, try and stop the home team from scoring quick runs and if wickets start tumbling in a hurry, you never know, we might even have a game on our hands.
That remains the extremely unlikely scenario, with India currently right on top of the proceedings. With ten wickets in hand – Gautam Gambhir's situation is doubtful after the left-hander retired hurt with a shoulder injury – India have the privilege of dictating the game and setting the exact final target they want.
Get the final score of the match HERE
What Virat Kohli and Anil Kumble will look at is: What total will make the game completely safe and also allow India to keep attacking fields without worrying about leaking runs? And: How many overs can the bowlers bowl without risking the chances of overtiring?
Get the Day 4 Ind innings report HERE
The answers to those questions will be known by the pace with which India bats. The first hour is likely to be circumspect as India gauge the day four pitch, but from the second hour the pace of the batting is likely to go up a notch or two.
Once the batting is done from India's point of view, it will be about picking up the ten New Zealand wickets. The Kiwis will still be kicking themselves at throwing away a wonderful start provided by Martin Guptill and Tom Latham in the first innings, so making sure every batsman contributes and bats to their ability will be key if the Kiwis are to save this Test match.
India will again bank on the guiles and mastery of Ashwin, who finished with six wickets in the first innings. With Ravindra Jadeja likely to come into play as well, considering the rough that will be there on day four and five, and the fast bowlers possibly getting some reverse swing, this will be a really difficult battle for New Zealand.
Where to Watch Live
India vs New Zealand day three of the third Test match is set to begin at 9.30am IST (5pm NZT, 5am BST, 12am ET). Live Streaming and TV information is below.
India: TV: Star Sports 1/HD1 and Star Sports 3/HD3. Live Streaming: Hotstar.
New Zealand: TV: Sky Sport 3. Live Streaming: Sky Go NZ.
Middle East: TV: OSN Cricket. Live Streaming: OSN Cricket Live.
US and Canada: TV: Willow TV. Live Streaming: Willow TV Online.
UK: TV: Sky Sports 3. Live Streaming: Watch Sky Sports.