R Ashwin completed his second five-for of the match, finished with 12 wickets in total and India ran through the New Zealand batting lineup like a hot knife through butter to complete an authoritative series whitewash. Set a tall target of 475 to win the third Test match in Indore, the New Zealand batsmen, all that fight gone after three intense Test matches, wilted in the second session on Day 4 to hand India an easy 321-run victory.
After Cheteshwar Pujara struck a century and Gautam Gambhir added a 50, to ensure India would have a massive total to defend, Ashwin took over, as is his wont, to shut New Zealand out in a hurry.
Going into the final session of the day, New Zealand were on 38/1 in nine overs – Tom Latham the only man out – and it looked like we would get some play on day five. However, once Ashwin started to find his rhythm and guile, New Zealand, who tried to take the attack to the off-spinner, had no answer.
Kane Williamson (27, 33b, 5x4), one of those Black Caps batsmen who tried to quell Ashwin's rhythm by attacking him, was the first to go in the final session, after the off-spinner trapped him lbw with the Kiwi captain going way too across his wicket.
Ross Taylor (32, 25b, 5x4, 1x6) came in and smashed Ashwin for a big six and a four, making his intentions clear. It was understandable too, because Taylor has struggled immensely while trying to defend the spinners, so he might as well take the other route. The problem with taking the aggressive route, though, is that the chances of it lasting longer than a few overs are very slim.
And so it proved to be as one attacking shot too many, this time an attempted sweep, saw the right-hander's timber being disturbed by, who else, but Ashwin.
Ashwin picked up wicket number three when he found a way through the defences of Luke Ronchi (15, 18b, 1x4), before Ravindra Jadeja got in on the act, dismissing Jimmy Neesham (0, 4b), caught smartly by Virat Kohli at short midwicket, and Martin Guptill (29, 60b, 5x4), trapped in front by a typical Jadeja delivery that just came in with the arm.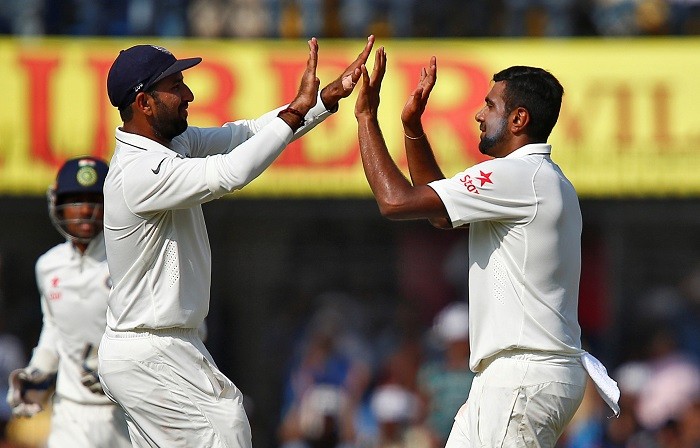 At 112/6, it was a question of when now, and while BJ Watling (23, 64b, 3x4) and Mitchell Santner resisted for a while, that resistance ended when Ashwin, rested for a few overs by Kohli, got a wicket on return. Santner (14, 24b, 2x4, 1x6) was the one to go, after an inside edge cannoned off both his pads and onto off-stump.
Jeetan Patel (0, 2b) was bowled soon after by India's spearhead for his second five-for of the match, before Matt Henry (0, 3b) looped one to mid-off to give Ashwin his 12th wicket of the game.
The 13th came when Boult hit one straight back to the bowler with Ashwin fittingly taking the catch and the wicket that ended this match and series, while Kohli and co. basked in the glory of officially becoming the No.1 Test team in the world, with that mace, which was handed to India at the end of this Test match, in hand.
Scores: First innings: India: 557 for five declared in 169 overs.
New Zealand: 299 all out in 90.2 overs.
First innings lead: 258 for India.
Second innings: India: 216/3 declared in 49 overs.
New Zealand target: 475.
New Zealand second innings: 153 all out in 44.5 overs.
Result: India won by 321 runs.
Bowling: Second innings: New Zealand: Trent Boult 7-0-35-0; Jeetan Patel 14-0-56-2; Mitchell Santner 17-1-71-0; Matt Henry 7-1-22-0; Jimmy Neesham 4-0-27-0.
India: Mohammed Shami 7-0-34-0; Umesh Yadav 8-4-13-1; R Ashwin 13.5-2-59-7; 16-3-45-2.
Fall of wickets: India second innings: 34/1, Murali Vijay (13.4 overs); 110/2, Gautam Gambhir (30 overs); 158/3, Virat Kohli (40 overs).
Fall of wickets: New Zealand second innings: 7/1, Tom Latham (1.4 overs); 42/2, Kane Williamson (11 overs); 80/3, Ross Taylor (18.3 overs); 102/4, Luke Ronchi (22.4 overs); 103/5, Jimmy Neesham (23.4 overs); 112/6, Martin Guptill (25.3 overs); 136/7, Mitchell Santner (32.5 overs); 138/8, Jeetan Patel (34.1 overs); 138/9, Matt Henry (134.4 overs).