Adelaide is often considered the best batting surface in Australia, but in the recent past there have been matches played where the bowlers have enjoyed themselves. In the Ashes series, the bowlers got the ball to hoop around on a slightly grassy surface.
Head curator Damien Hough does not want the nature of the surface too much and has said that he will leave some grass on the pitch despite it being a day Test match. The previous three matches were day-night matches which mandated leaving grass on the surface and it proved to be great for the seam bowlers.
"We won't do anything differently. The preparation will be the same. The only difference is we get the covers off earlier and we start earlier," Hough told The Weekend Australian.
'Best way to get an even competition is to leave grass on the surface'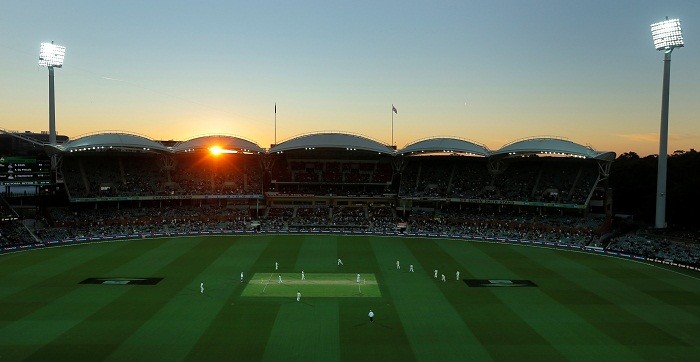 "We do the same preparation for red-ball cricket and pink-ball cricket at Shield level. The best way to get an even contest is to leave some grass on there and get that balance between bat and ball. Right now, we really feel that this is where it's at for the pitch," he added.
The bowling attack of both the sides are highly skilled and would love any assistance provided to them. The Australian batting is slightly jittery and the curator has to walk a very tight rope if he decides to keep the surface green against the Indian attack.
Australian captain Tim Paine has urged his pace trio of Pat Cummins, Josh Hazlewood, and Mitchell Starc not get 'too hot' under the collar and not lose their way when bowling against Indian captain Virat Kohli.
"I think our fast bowling attack... if they play purely on skill, they're going to trouble him (Kohli). At times when we get too emotional, we can lose our way a little bit. So it's a really fine line," the captain said.
Former Australia wicket-keeper batsman Adam Gilchrist has already said that the Indian pace attack really excites him and it should give India plenty of confidence going into the Test series.
"But I am really excited from an Indian point of view about that pace bowling unit and they have shown glimpses in England about their ability to rip through potential batting line-ups. They are fit, strong, aggressive young men so they have all virtues to take on Australia in Australia," Gilchrist stated.