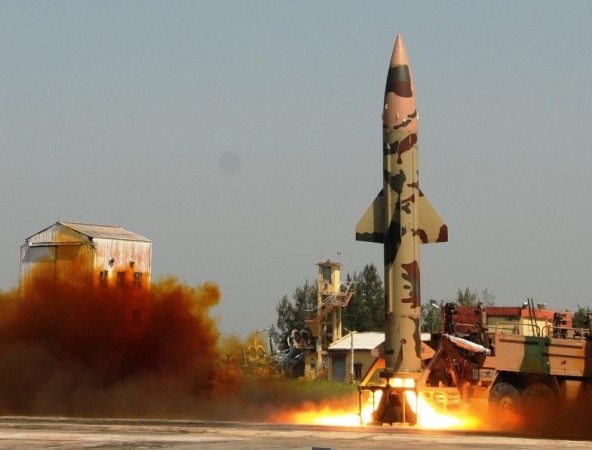 India on Friday, June 2, successfully test-fired the nuclear-capable Prithvi-II ballistic missile from Chandipur on the coast of Odisha. "The missile trajectory was tracked by the DRDO [Defence Research and Development Organisation] radars, electro-optical tracking systems and telemetry stations located along the coast of Odisha," sources told PTI.
The test adds to the growing push by the Indian armed forces to modernise and strengthen their ranks, coming as it does in the wake of a number of such missile tests already conducted and several big-ticket purchases that are lined up or already finalised. Of recent, India has successfully test-fired air-to-air beyond-visual-range missiles from the LCA [Light combat aircraft] Tejas. Just before that it had also conducted user trials of the Agni-II missile, also in Odisha.
What is the Prithiv-II missile?
The Priithvi-II, whose entire class is named after Rajput king Prithviraj Chauhan, was initially a single-stage liquid-fuelled missile that can carry a warhead of upto 500 kg over a distance of 250 km. Developed in the 1990s, it has since been upgraded over the years to increase its distance and carriage capabilities. The current range is closer to 350 km, while the warhead capacity is anywhere between 500 kg and 1,000 kg.
It was the first missile developed under the Integrated Guided Missile Development Programme (IGMDP). The IGMDP is an Ministry of Defence programme under the DRDO, to develop a special and comprehensive set of weapons for the Indian armed forces.
India's military push
While India has rarely — if ever — acted as the aggressor, it has had to face aggression from possibly all sides. Therefore, it is pushing in a big way to upgrade the capabilities of its armed forces, as is evident from the several tests it is conducting and the several purchase orders it has placed.
For example, it is set to procure anti-chemical and anti-nuclear suits from the US for Rs 480 crore, an order already approved by the US authorities. It has also for the first time in three decades ordered new howitzer guns, some of which are to be made in India. Even Indian Navy is in for some upgrades, and is all set to welcome its first Scorpene-class stealth submarine, INS Kalvari.