Indian Army will receive on Friday the first howitzer guns since the Bofors arsenal it had inducted into its ranks 30 years ago. While scandal had marred the Bofors purchase back then — Rajiv Gandhi had been accused of taking kickbacks, but the case went nowhere — the current purchase is good news not only for Indian Army but also home-grown businesses and the job market.
The purchase
India is purchasing 145 pieces of M777 ultra-light artillery guns — specifically howitzers — from BAE Systems in a deal that was finalised with the United States government in December last year. The deal was formally inked in January this year. The first two of these guns are arriving in India on Friday, and are expected to be tested in Rajasthan.
A BAE Systems sposkesperson told IBTimes India: "The deal was to deliver the first of these howitzers within six months. We were expected to deliver them by June, but are delivering them in May itself." The M777 is described by BAE Systems as "a 155-mm 39-calibre towed gun."
Here is a video of their induction:
Boost for India
The BAE Systems sposkesperson explained to IBTimes India that of the 145 howitzers India has ordered, 25 would be made in the US, while the rest would be assembled locally, giving a fillip to the "Make in India" push made by Prime Minister Narendra Modi. BAE Systems is partnering with Mahindra Defence & Aerospace, a part of the Mahindra Group, to do this.
As part of the collaboration, a facility is being set up in India to let Mahindra assemble, integrate and test the M777 howitzers. Mahindra is also expected to "ensure that the life-cycle support [of the artillery guns] is available locally, thereby enhancing operational availability of the guns." This means jobs will be created not only in the assembly and testing sequences but also in the maintenance of the weapons.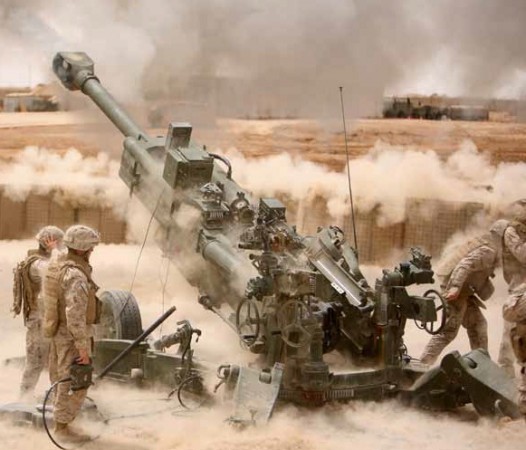 Boost for Army
And it is of course a boost for Indian Army, which has been making do so far with decades-old equipment. The M777 howitzers, with a range of 30 km or even more in assisted mode and being easier to transport than the competition, are great for deployment in hilly terrains across the borders.
The howitzers are expected to help India give a fitting reply to Pakistani shelling during ceasefire violations, which has led to deaths along the Line of Control. The guns can also act as a deterrent for China both in Jammu and Kashmir and the North-Eastern states.