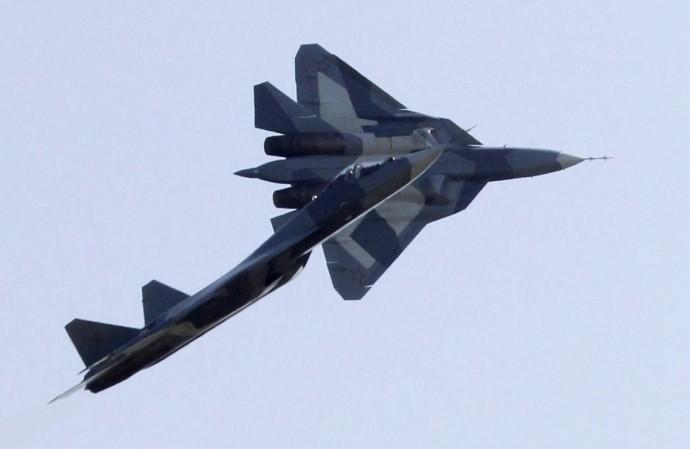 Russia wants to cement its position as Indian Air Force's key supplier and give a decisive boost to Indo-Russian relationship. In view of this, India and Russia are looking to sign a design and development contract for Fifth Generation Fighter Aircraft (FGFA), a stealth fighter.
China's new stealth fighter FC-31 has to beat these combat jets to rule the skies
New Delhi and Moscow are ready to sign the agreement on the Russian stealth jet, which will be based on the T-50, the first prototype of PAK FA. But New Delhi seems to be planning for the future and is careful not to leave out any details.
India is looking to have the right to export the final product and is seeking Russian approval. The Research and Development (R&D) round of the cooperation is in its final stages.
Manohar Parrikar, defence minister, is asking why India was investing in the aircraft R&D only, why not it be allowed to produce and sell?
"...When R&D phase will get over and you are not able to produce and sell, what is the point in developing? Whether we will have right to produce because there will be some IPRs over which Russia will have claims? All these important aspects are being clarified properly," said Parrikar, Sputnik reported.
The Indian government is also keen to sort out issues that matter to its future stealth fighter aircraft. This includes PAK FA's stealth capabilities, the transfer of technology and ability to jointly manufacture and sell.
"We are trying to ascertain quantum of stealth, transfer of technology and whether we will be able to manufacture and sell jointly. All these aspects are being discussed because when we invest huge money ($5-6 billion) you are commercially not only producing for yourself, but considering exports as well. Secondly, stealth aspects should also be in conformity. So all these technical aspects are being looked into before going forward," Parrikar was quoted as saying by the report.
In the next few weeks, a Russian delegation will be arriving in New Delhi to discuss all the aspects of the Indo-Russian cooperation on stealth aircraft.
India is yet to discuss the number of aircraft it would produce.
The Indian version of the PAK FA will be the Indo-Russian FGFA. The project actualised after both countries signed a cooperation agreement in 2007. In December 2010, India signed a primary contract with Russia. India has totally spent $242 million on the contract.
Apart from the FGFA, the Indian defence scientists will help build indigenous stealth fifth generation aircraft, the Advanced Medium Combat Aircraft (AMCA), which will be based on the FGFA.
Though the AMCA is in conceptual stage, Sweden's SAAB, which is hoping to bag a 200-combat fighter deal with India, has offered help in its development.
US has already deployed its fifth generation stealth aircraft, F-22 Raptors and F-35s. China has said it is equipping its frontline defence forces with J-20. China recently also tested FC-31 stealth combat aircraft.
All these countries seem to be in a race to get the fifth generation stealth fighters.