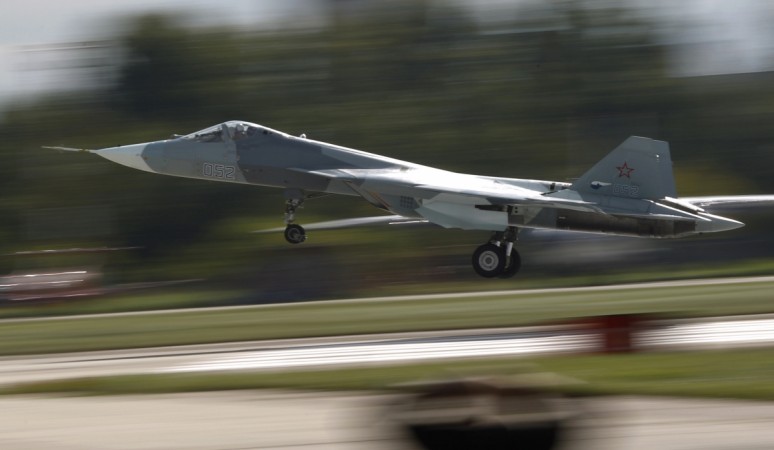 India could soon ink a pending contract with Russia on stealth jet fighters, as both countries have "ironed out" their differences regarding the co-development of the fifth-generation fighter aircraft (FGFA), the Tribune reported, citing sources.
The research and development (R&D) contract was pending since 2013 following the completion of the preliminary design contract (PDC) that cost $295 million (Rs. 1,483 crore) for both countries.
Previous reports had suggested that the Indian Air Force (IAF) had differences with the Russians over several points, the like new engine, super-cruise ability, 360-degree radar ability and added stealth features, and they wanted over 40 such modifications in the existing prototype.
Russians are already testing a prototype called the T-50 PAK-FA (Prospective Airborne Complex of Frontline Aviation) that will be the basis of the FGFA.
India, the report notes, has said that it would want "adequate share of the work" to be done in the country as part of the R&D contract, which would help Indian engineers learn from the experience.
The R&D contract is estimated to be around Rs. 26,000 crore, and a prototype for the IAF could be ready in three years, while together with the final development, the development process is spread over seven years, the report said.
With the contract for the 36 Rafale aircraft not yet in sight and the IAF operating at its lowest combat strength, down to 33 squadrons from the mandated 42, the current government might be looking to speed up the process without harming its development concerns, over fears of a simultaneous war situation with Pakistan and China.
Though initially India was projected to have 127 FGFAs, newer reports have said the country could be looking at 65 aircraft (three squadrons) for induction into the air force.