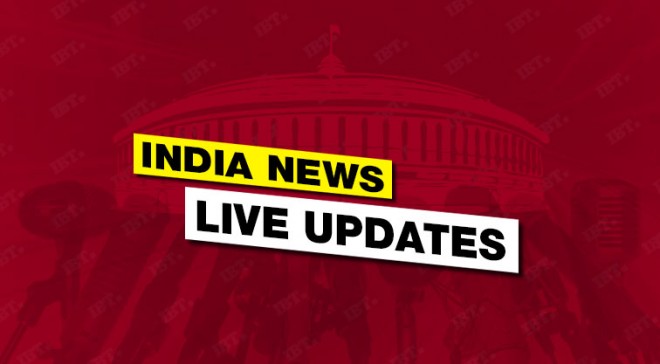 Read all live updates, breaking news from across India right here on International Business Times India:
Here are all the live updates:
5:14 pm IST: Nursery admission case: Hearing deferred till Jan 30 in Delhi HC. Delhi government's counsel cited the previous judgements in the case
5:01 pm IST: The Crown Prince of Abu Dhabi Mohammed Bin Zayed Al Nahyan reaches Delhi. He is received by Prime Minister Narendra Modi at the airport.
4:49 pm IST: Metro services on Violet line (Badarpur - Mandi House) in Delhi running late due to a technical glitch
4:44 pm IST: Khoirom Ranjeet (chief of a terror group in Manipur) and his associate sent to judicial custody in Delhi till January 31 by Patiala House Court
4:30 pm IST: Coca-Cola and Pepsi products to be banned in Tamil Nadu from March 1, 2017: Tamil Nadu Vanigar Sangam
4:27 pm IST: PM Narendra Modi to receive the Crown Prince of Abu Dhabi Mohammed Bin Zayed Al Nahyan, at Delhi airport
4:25 pm IST: Fire broke out in three shops of Gaffar Market in Delhi earlier today. Three fire tenders reached the spot and doused the fire.
4:06 pm IST: Samajwadi Party releases list of campaigners for first phase of elections in UP. Shivpal Yadav's name missing from the list
4:04 pm IST: Vijay Mallya loan default case: CBI files chargesheet against 11 (including Kingfisher Airlines and Vijay Mallya) in special CBI court in Mumbai. CBI produced nine people arrested in the case before CBI court and asked for judicial custody.
3:40 pm IST: Supreme Court transfers Ganga cleaning and sewage treatment case to the National Green Tribunal (NGT)
3:36 pm IST: SC asked BCCI and AG to suggest names for appointment of administrators in BCCI in a sealed cover; next date of hearing January 30
3:34 pm IST: Activist Calls For Action Against SRK's Promotional Train Ride 'Nuisance'
3:30 pm IST: Samajwadi Party's Azam Khan files nomination from Rampur, Uttar Pradesh
3:12 pm IST: Congress releases list of campaigners for upcoming assembly elections in Uttar Pradesh; Priyanka Gandhi also on the list
3:07 pm IST: Home Minister Rajnath Singh addressed a rally in Fazilka, Punjab
3 pm IST: BookMyShow buys Hyderabad-based MastiTickets to boost presence in Andhra Pradesh, Telangana
2:56 pm IST: Center likely to withdraw the January 7, 2016 notification on Jallikattu case in Supreme Court
2:50 pm IST: Supreme Court said that the names suggested by Amicus Curiae above 70 years of age would not be considered for the appointment of administrators in the BCCI.
2:49 pm IST: TN CM writes to PM, urges to direct Water Resources Ministry to advise Kerala Govt to stop construction wrk of check dams across rivr Bhavani
2:13 pm IST: ED questioning people related with IRF and Zakir Naik in the money laundering case registered against him
2:02 pm IST: Allahabad High Court stays UP government's order to include 17 sub-castes in the SC category.
1:54 pm IST: Directed DG RPF to probe matter and take stern action against any lapse: Railways Minister Suresh Prabhu on a person who died in Vadodara where Shah Rukh Khan was promoting Raees.
1:40 pm IST: BSF apprehended a Pakistani national near International Border in RS Pura sector (Jammu and Kashmir)
1:39 pm IST: Guided Pinaka successful test fired from Chandipur today
1:17 pm IST: The total cost of the project, by India Trade Promotion Organisation ITPO, will be Rs 2,254 crore. The project received the cabinaet's approval.
1:16 pm IST: Cabinet gives ex-post facto approval for interest waiver for Nov & Dec 2016 for farmers' short-term crop loans from Cooperative Banks
1:15 pm IST: Cabinet approves ratification of Second Commitment Period of the Kyoto Protocol on containing emission of Green House Gases
1:14 pm IST: Cabinet approves transfer of 11.35 acres of land to Airports Authority of India AAI by exchanging equivalent land of AAI at Anisabad
12:46 pm IST: Maruti Suzuki Swift DZire Allure limited edition launched in India
12:22 pm IST: Sukhbir Singh Badal releases Shiromani Akali Dal's manifesto in Ludhiana for the upcoming Punjab elections
11:59 am IST: SC asks all state Home Secretaries to file a response in regards to vacancies in states in police department within four weeks
11:35 am IST: Kamal Haasan addresses media in Chennai over Jallikattu
11:15 am IST: US President Donald Trump and PM Narendra Modi to talk over phone later today
10:52 am IST: SBI led consortium of banks move SC in Aircel-Maxis case. Banks want to be heard by SC before any decision on banning Aircel's 2G spectrum
10:39 am IST: Tracker dog of the CRPF dies in IED blast triggered by naxals in Bijapur district of Chhattisgarh
10:18 am IST: Special CBI court to pronounce order on February 2 on framing of charges against former Telecom Minister Dayanidhi Maran and others in Aircel-Maxis case
9:48 am IST: Uttar Pradesh Chief Minister Akhilesh to kick off SP poll campaign from Sultanpur
9:44 am IST: At least 40 people have been injured after a tourist bus overturned in Dhauli hills in Bhubaneshwar in Odisha.
9:38 am IST: School manager arrested by police in connection with the Etah school bus accident in Uttar Pradesh.
9:16 am IST: Cold wave intensifies in Shimla following western disturbance effects
9:08 am IST: Encounter between security forces and terrorists is currently underway in Khimber's Hadoora area in Ganderbal district of Jammu and Kashmir.
8:48 am IST: Security has been tightened in Ludhiana ahead of the Punjab Elections 2017. Checks are being carried out
8 am IST: Supreme Court to read out the names to be appointed as administrators in the Board of Control for Cricket in India (BCCI) matter
7:57 am IST: Crown Prince of Abu Dhabi and Deputy Supreme Commander of the Armed Forces of UAE will be on a three-day visit to India from today. Sheikh Mohamed bin Zayed Al Nahyan, who will be attending the Republic Day celebrations as the chief guest, will meet PM Narendra Modi on Wednesday
7:35 am IST: Fire broke out at a wood godown in Mumbai's Kurla area last night. It was later brought under control.
7:28 am IST: Raees By Rail turns fatal, SRK fan dies in Vadodara
7:26 am IST: The arrival of at least 25 trains in Delhi has been delayed, nine rescheduled and one cancelled due to fog and other operational reasons.
7:22 am IST: At least 11 international flights have been delayed at Delhi's IGI Airport (10 arrival and one departure). Nine domestic flights — three arrival and six departure — have been delayed while one has been cancelled.