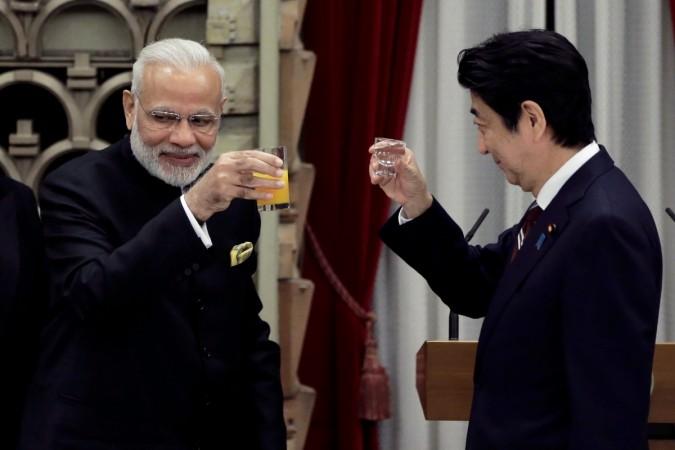 As tensions with China refuse to die down despite an end to the Doklam stand-off, India is set to host a trilateral dialogue with the United States and Japan, April 4-6. The meet is being seen as a bid to develop close ties between the three nations, something that is likely to act as countervail to China's growing domination in Asia.
The US state department Monday said that Alice Wells, the US diplomat for South Asia, and Susan Thornton, the state department official in-charge of the East Asia and Pacific affairs, will lead the delegation traveling to India.
During the India trip, Wells will participate in the India-US Forum, hosted by the Ananta Centre and the ministry of external affairs April 6. The team will also meet senior Indian government officials, the state department said.
India, US, and Japan will also discuss regional and global issues with the government, as well as, the representatives of other sectors and formulate ways to strengthen ties amid growing China tensions.
The three countries and Australia earlier came together for an informal strategic dialogue called the Quadrilateral Security Dialogue (QSD, also known as the Quad) and this was also supported by joint military exercises.
Indian defense secretary Sanjay Mitra had visited the Pentagon last month, and India and the US had also decided to participate in sea exercises off the Indian coast, including the Andaman and Nicobar Islands. The two nations also plan to get Japan on board these exercises and the Australian Navy too may soon join.
The India-US-Japan trilateral dialogue comes a fortnight before Japanese prime minister Shinzo Abe travels to Mar-a-Lago, Florida, where he will meet US president Donald Trump. During the two-day summit April 17 and 18, the two leaders will pledge their commitment to "peace, stability, and prosperity in the Indo-Pacific region," said White House press secretary Sarah Huckabee Sanders.
Trump and Abe will also "explore ways to expand fair and reciprocal trade and investment ties between the United States and Japan, two of the world's wealthiest and most innovative economies," the New York Post quoted Sanders as saying.
Shinzo also explained that Japan would discuss US' plans before Trump meets North Korean leader Kim Jong-un in May. "I'm planning to visit Mar-a-Lago in Florida and hold Japan-US summit talks for two days over matters of mutual interest, including the issue of North Korea," Kyodo quoted Abe as saying.
Abe will also speak to Trump about Pyongyang's abduction of Japanese citizens between 1977 and 1983. While North Korea had admitted to abducting 13 Japanese nationals, it has been said that there were hundreds of victims.