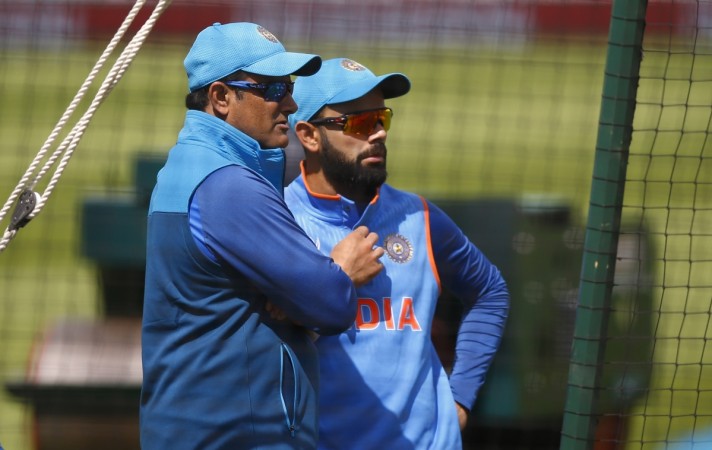 For the whole day yesterday (October 17), Indian cricket fans were waiting. They expected captain Virat Kohli to wish Anil Kumble on his 47th birthday. But it never happened, much to the disappointment of the users on social media.
Former India skipper and leg-spin legend Kumble was inundated with birthday wishes right from Tuesday morning.
Also read: Have you been to 'Dhoni & Kohli' restaurant?
Sachin Tendulkar, Virender Sehwag, VVS Laxman, Harbhajan Singh, Mohammad Kaif and others who played with the Karnataka spinner, took to the micro-blogging website to send their wishes.
But from the current Indian side, only Rohit Sharma, Cheteshwar Pujara, R Ashwin, Kuldeep Yadav, Ajinkya Rahane, Ishant Sharma and Jasprit Bumrah followed the past players in taking the Twitter route to send across wishes to India's highest wicket-taker in both Tests and ODIs.
Also read: BCCI 'insult's Kumble, deletes tweet
There were polls run on Twitter by fans whether Kohli would wish Kumble or not. And most of the predictions came true that Kohli would never do.
Kohli and Kumble had differences and that led to the exit of the latter as India coach. His last assignment was the ICC Champions Trophy 2017 in England where the team lost to Pakistan in the final.
A very happy birthday to one of the finest players & an amazing human being. Always inspiring. Have a wonderful year ahead @anilkumble1074.

— cheteshwar pujara (@cheteshwar1) October 17, 2017
Kumble was appointed by the Board of Control for Cricket in India (BCCI) for a one-year period. During his tenure, the team was successful but his contract was not renewed due to Kohli.
Ravi Shastri was chosen by BCCI as India's head coach to replace Kumble, till ICC World Cup 2019 in England.
Thank you everyone for all your love and affection. Appreciate your warm wishes. Made my birthday very memorable ?

— Anil Kumble (@anilkumble1074) October 17, 2017
Some of the players in the team had termed Kumble as "overbearing". The coach, while stepping down had disclosed that his partnership with the skipper was "untenable".
Whatever might have been the differences, according to fans, Kohli should have set aside his ego and wished Kumble on his birthday. Even most of this team-mates did not. Where they following the leader's instructions? Many felt.
Kohli, who had posted a welcome message to Kumble after his appointment as India coach, deleted it a year later when he left the coaching position.