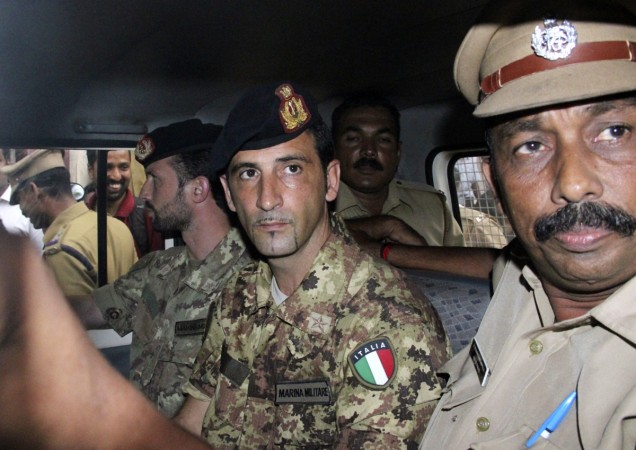 New Delhi has reportedly agreed to send Italian marine Salvatore Girone to Italy after a United Nations arbitration court at The Hague on Monday asked India to release him until it decides the jurisdiction of the case. Two Italian marines were in 2012 detained for killing two Indian fishermen off a Kerala coast.
The ministry of external affairs (MEA) has, however, said the Permanent Court of Arbitration at The Hague has only asked India to relax Girone's bail conditions, which will be decided by the Supreme Court of India, according to reports.
The U.N. arbitration court's order "neither releases nor frees any marine. It only recommends further relaxation of bail conditions of Girone, to be considered and decided by the Supreme Court of India," the Indian Express quoted government sources as saying.
"The tribunal left it to the Supreme Court to fix the precise conditions of Sgt Girone's bail. This could include him reporting to an authority in Italy designated by our Supreme Court, surrendering his passport to Italian authorities and not leaving Italy without the permission of our Supreme Court. Italy shall apprise our Supreme Court of his situation every three months," MEA spokesperson Vikas Swarup said in a statement.
The government would approach the Supreme Court "for its directions on this matter," Swarup said, and added: "We remain confident that the issue of jurisdiction will be determined in our favour."
Girone will have to return to New Delhi if the tribunal rules in favour of India.
"While remaining under the authority of the Supreme Court of India, he may return to Italy for the duration of the present arbitration. The Tribunal confirmed Italy's obligation to return him to India in case it was found that India had jurisdiction over him in respect of the incident," Reuters cited the MEA statement.
Girone and another Italian marine Massimiliano Latorre were arrested in 2012 on charges of shooting dead two Indian fishermen mistaking them for pirates. The Supreme Court last year allowed Latorre to return to Italy on health grounds.
However, Girone was shifted to the Italian embassy in New Delhi following restrictions on his travel, the Hindustan Times reported.