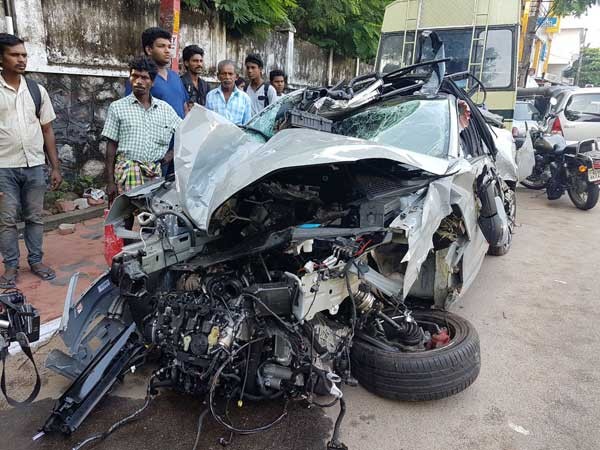 A Kerala businessman's son died after his car rammed into an autorickshaw at Kowdiar in Thiruvananthapuram late on Thursday (November 16).
Adarsh, 21, who was apparently driving his car at a high speed, was admitted to Medical College Hospital but breathed his last early morning on Friday. The deceased, who hails from Vallakkadav, is the son of a businessman, who owns Hotel SP Grand Days in Thycaud in the capital city.
Also read: Kin alleges Kerala accident victim died after hospital denied shifting him for better care over Rs 4,000 bill
The mishap happened at around 11:30 pm near Raj Bhavan and after hitting the auto, the car apparently overturned and hit an electricity pole. The fire force had to be approached after police and locals failed to break open the vehicle.
Also check: Images show how 4 students from Kerala died in Bengaluru-Mysore highway accident
Three women, who were with Adarsh and the auto driver Sajikumar, 42, are said to be in a critical condition with two of them still in the ICU. The women, in their early 20s, have been reportedly identified as Gauri Lakshmi Subramaniam, Ananya and Shilpa.
The brand new Skoda Octavia RS sedan with temporary registration was completely destroyed. Preliminary investigation hints that the fatal accident happened as a result of a car race, but the police are yet to confirm the reason after checking the CCTV visuals from nearby areas.
Here are photos from the accident spot:
Terrible accident!! Fire force had to cut into the smashed Skoda to rescue the young people inside last night in Trivandrum. Case of alleged speeding. 21 year old Adarsh died. Three women in hospital. Driving safely is crucial. #Kerala! pic.twitter.com/0E3XSK1u9d

— Sneha Koshy (@SnehaMKoshy) November 17, 2017
-