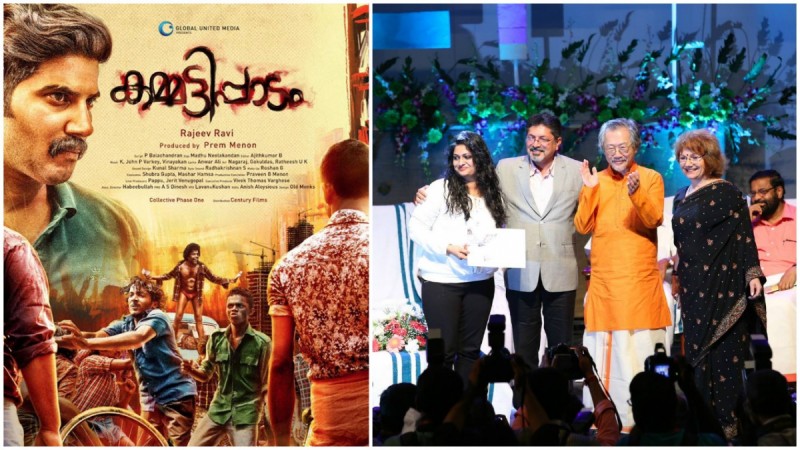 Young star Dulquer Salmaan's critically acclaimed Malayalam movie Kammatipaadam has bagged Network for the Promotion of Asian Film Centre (NETPAC) award for the Best Malayalam Film during the 21st International Film Festival of Kerala (IFFK) that was concluded on Friday, December 16.
On receiving the award during the prestigious film festival, Dulquer, who was well appreciated for portraying three different looks in the Rajeev Ravi directorial, took to his social media page to announce the big news. "Congrats to team #Kammattipaadam for winning the NETPAC award for best film at #IFFK !! I'm sure it's the first of many. You deserve every accolade that comes your way Rajeevetta and your whole team. So blessed to have been a part of the film [sic]," reads the Facebook post of the actor.
IFFK Full winners' list
Mohamed Diab's Clash won the prestigious Golden Crow Pheasant Award with a cash prize of Rs 15 lakh under the category of Best Feature Film. The award is to shared equally by the director and producer of the movie.
The Silver Crow Pheasant Award for Best Director with a cash prize of Rs 4 lakh was given to Yesim Ustagolu for the movie Clair Obscur. Meanwhile, the Silver Crow Pheasant Award for the Best Debut Director was awarded to Vidhu Vincent for her directorial venture Manhole. She also received a cash prize of Rs 3 lakh for the movie, which also was selected under the category of Best Malayalam Film by International Federation of Film Critics (FIPRESCI).
While Mustafa Kara's Cold of Kalandar has been selected for NETPAC Best Asian Film award, Jack Zagha Kababie's Warehoused won FIPRESCI Award for the Best International Film. It was Mohamed Diab's Clash that won Rajatha Chakoram, the audience prize of Rs 2 lakh, this year.
The star-studded closing ceremony of the film festival was attended by many policians and celebrities, including Kerala Chief Minister Pinarayi Vijayan, ministers AK Balan, directors Kamal, Sibi Malayil, actors Rima Kallingal and Geetu Mohandas, among many other dignitaries.
Suwarna Chakoram for Best Film - Clash (Mohamed Diab)

The jury unanimously underlines and applauds the excellent cinematographic work, that so aptly explains the historical shock of his country and sketches a living portrait of all the socio-political currents represented by real, authentic and truly human characters.

Rajatha Chakoram for Best Debut Director - Vidhu Vincent (Manhole)

The jury feels the director expressed an everyday unnoticed social issue in a simple and important, yet a powerful visual image narrative. The human and realistic story was brought to life on screen. We find a true cinema potential in the director and look forward for her future works.

NETPAC Award for Best Asian Film - Cold of Kalandar (Mustafa Kara)

"For the purity of its cinematic brilliance in bringing out the universality of the struggle between Man and Nature, beauty and danger, love and hope...."

NETPAC Award for Best Malayalam Film - Kammatipaadam (Rajeev Ravi)

"For giving an epic dimension to the issues of friendship, violence and illicit profiteering inherent to gangster films and for masterfully animating genre conventions with social, political urgency."

FIPRESCI Award for Best International Film - Warehoused (Jack Zagha)

"For the way in which it challenges the conventional form, content and language of cinema in terms of use of space, narration that reaches beyond cultural, linguistic and time barriers."

FIPRESCI Award for Best Malayalam Film - Manhole (Vidhu Vincent)

"For the raw reality with which the film sheds light on the persistent inhumanity of manual scavengers in India, despite its being legally banned, in a cinematically eloquent manner."

Audience Award - Clash (Mohamed Diab)
Special Mention - Actor Paolo Ballesteros for director Jun Robles Lana's Die Beautiful
Special Mention - Actor Ecem Uzun for director Yesim Ustaoglu's
Check out photos and videos of the award distribution ceremony here:
-