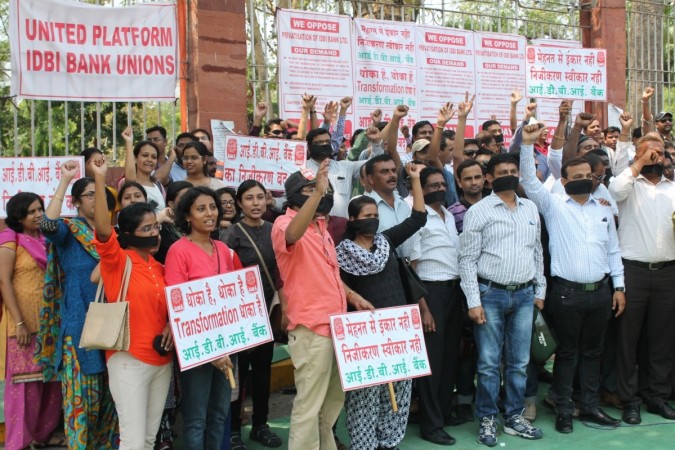 IDBI Bank, an Indian state-run lender, reported a net loss of Rs. 1,736 crore for the fourth quarter ended March 2016 on account of a 159 percent spike in bad loan provisioning. The lender had reported a net profit of Rs. 546 crore for the March 2015 quarter.
Provisioning for bad loans rose to Rs. 4,450 crore during the March 2016 quarter from Rs. 1,718 crore in the corresponding period in the previous fiscal.
The Mumbai-based lender's net interest income dropped 14 percent to Rs. 1,428 crore from Rs. 1,661 crore in the March 2015 quarter, the bank said in a statement on Friday.
IDBI Bank's net non-performing assets (NPAs) during the quarter rose by Rs. 5,031 crore during the quarter to Rs. 14,643 crore from Rs. 9,612 crore in the December 2015 quarter.
Net NPAs as a percentage of total advances almost tripled to 6.78 percent at the end of March 2016 from 2.88 percent as on March 31, 2015. At the end of December 2015 quarter, net NPAs stood at 4.6 percent.
Gross NPAs doubled on a year-on-year basis to 10.98 percent as on March 31, 2016.
IDBI Bank's capital adequacy ratio stood at 11.67 percent at the end of 2015-16.
The bank reported a net loss of Rs. 3,664 crore for 2015-16 as against a net profit of Rs. 873.39 crore in the preceding financial year.
Banks have been reporting lower profit or higher losses in the wake of massive provisioning for bad loans following an asset quality review conducted by the Reserve Bank of India (RBI) across the banking sector in December. The apex bank set a deadline of March 2017 for banks to clean up their balance sheets.
IDBI Bank employees were up in arms against a proposal announced by Union Finance Minister Arun Jaitley while presenting the Union Budget for 2016-17 to privatise the bank by bringing down the government's stake below 50 percent.
The Indian government currently holds 73.98 percent in IDBI Bank, according to a regulatory filing by the lender with the stock exchanges.
IDBI Bank is also facing a controversy over a Rs. 900 crore loan given to the now-defunct Kingfisher Airlines, which belongs to Vijay Mallya's UB Group.
Shares of IDBI Bank closed at Rs.64.10 on the BSE on Friday, down 0.47 percent from its previous close.